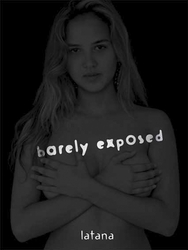 I asked them to be half-dressed because I did not want them to hide behind their clothing
Los Angeles (Vocus) October 31, 2010
How often does society listen to the opinions and views of young adults?
In her new book of photos, Barely Exposed, photographer Latana delves into this notion, proving the importance of this misrepresented age group by photographing and surveying 60 geographically and ethnically diverse 17- to 21-year-olds to take better understand how they see the world and themselves.
"I asked them to be half-dressed because I did not want them to hide behind their clothing," says Latana. "It was important for me to capture the vulnerability in their faces. Half-dressed, they were all the same…half child, half adult, and yet completely different individuals."
Like these transitioning youth, Latana understands how it feels to be only partially seen or heard due to her own experiences growing up in America with a multiracial background. As her son approached his own passage from adolescence to adulthood, she realized the importance of capturing that time in his life as well as the questions and fears of what the future would hold.
To allow young adults to express or find themselves on their passage to adulthood – and to guide adults to better comprehend that passage – Latana simply asked, "How do you see your world?"
"I am living in a good society, but my world is full of people who do not comprehend the meaning of adolescence," says Hagar, a 17-year-old from Cairo, Egypt. "We teenagers are at a very critical age. Adults will have to understand us…in order not to lose us."
"I see the world as a continuous lesson. It is a source of both visual and emotional discoveries," says 19-year-old Temano from Tahiti.
Honest and unafraid, the youth in Barely Exposed unveil their thoughts and impressions of the world, revealing wisdom beyond their years that deserves to be heard.
"How do I see the world?" asks Taiana, a 17-year-old from California. "In this world, I see people who get it and people who are still trying to figure out how to live in it properly."
For more information, visit http://www.latanastudio.com.
About the artist
For 20 years, Latana has traveled, studied and exhibited her work internationally in Switzerland, Paris, New York, Los Angeles, the Pacific Rim and more. She began her career in fashion photography in New York and appeared in magazines such as Harper's, Vogue and Details and expanded her craft by capturing images in India, Southeast Asia, China, Armenia, Siberia and Africa.
Barely Exposed is Latana's third book. Her first book, Fragments, is a conceptual work of images of an abandoned villa in the heart of Tuscany, Italy. Her second book, The Phukthar Monastery, was conceived primarily for the benefit of the children and monks of the monastery.
Currently, Latana divides her time between Singapore, Europe and California and continues to travel extensively.
# # #