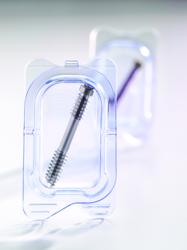 Design validation can focus on the worst case
Elkhart, IN (PRWEB) March 27, 2013
With large potential cost savings seen in terms of capital investment, warehousing space and internal resources, Barger, a turnkey designer and manufacturer of medical packaging systems, has turned single thermoformed clamshells into universal packaging housing hundreds of SKUs for a number of customers. In this month's Pharmaceutical and Medical Packaging News (PMP) magazine's article "Seeking Universal Savings," Barger discusses how universal packaging can help medical packaging engineers limit the number of validations required for designs and processes.
Universal packaging is a growing trend which can help alleviate costs and headaches for medical device and component manufacturers. With universal packaging, multiple SKUs can be configured into one package while design validations can focus on the worst case. In addition, Barger's unique BargerGard® polyurethane materials can act as void fill which can increase the universal packaging design's use for additional applications.
To read the entire article, click here. For more information about universal packaging design for medical devices and components, contact Barger at 888-525-2845.
ABOUT BARGER
With over 250 combined years of medical device and component packaging design and thermoforming experience, Barger, a division of Placon, provides turnkey solutions for sterile and non-sterile packaging systems. Barger's philosophy of a "high touch", customer-focused approach coupled with innovative design solutions has made the company one of the top 3 medical thermoformers in the US. ISO 9001 certified, Barger operates multiple clean rooms at its Elkhart, IN and corporate Madison, WI facilities.