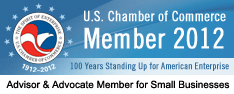 Supporting Small Businesses in 2012
St. Peterburg Florida (PRWEB) June 09, 2012
One of the biggest challenges that most firms have been dealing with is the increasing competition and shifts in customer demand. This is because the economy has changed with more jobs being outsourced to other trading partners (who have lower labor costs). Moreover, the recession and stagnant recovery are making consumers cautious. The combination of these factors is forcing businesses to cut back (in an effort to adapt).
To help firms be able to adjust with these challenges is the US Chamber of Commerce. For 100 years, they have been the organization that is dedicated to assisting businesses in evolving with the unique problems they are facing. Recently, B2B e Trader / b2beTrader.com announced that they are working in partnership with the US Chamber of Commerce. This is illustrating their ability to: help small businesses understand and adjust with a number of issues.
B2B e Trader and the US Chamber of Commerce
The US Chamber of Commerce is the premier organization that is providing assistance and support to small businesses. This is accomplished through showing entrepreneurs effective strategies for dealing with a number of issues. However, the recent recession and shifts in the economy have overwhelmed the US Chamber of Commerce. To continue to help small businesses, they have partnered with those firms that have a track record of assisting stakeholders in meeting these objectives.
B2B e Trader was selected because they are helping companies to adapt through the online business marketplace. This is a state of the art application that allows buyers and sellers to connect with each other via social media for free. The way that this is accomplished is through using social networking to reach out to the other party. For small business owners, this is helping them to address their most critical needs and reduce costs. Once this takes place, is when they are able to more effectively compete on the world markets.
Moreover, B2B e Trader has different chat rooms and message boards where users can discuss a host of ideas with some of the most successful entrepreneurs. This is allowing business owners to learn about new strategies they can use in dealing with various challenges. Making it ideal for businesses and professionals to share advertising listings to buy, sell, or trade a host of commercial used equipment, like restaurant equipment, medical equipment, office equipment, heavy equipment, IT equipment and more. In the future, this makes them more aware of what changes are occurring and how to protect themselves. This is the point that they can adjust their business model to address any kind of new transformations. Over the course of time, this makes a firm more able to focus on specific products and services that customer's demand. This is illustrating how B2B e Trader is playing an important role in helping firms to evolve with various challenges.
As a result, B2BeTrader.com is given the distinction of Small Business Advisor and Advocate. Their job is to assist small businesses in understanding what they can do to deal with new problems. At the same time, they are using their relationship and experience with small businesses to serve as a voice for these organizations. This ensures that any kind of policies will take into account the needs of owners.
Clearly, the role that B2B e Trader is playing with US Chamber of Commerce is showing how they can help firms adjust with various challenges. This is allowing them to become more competitive and flexible. When this happens, businesses will have a lower cost structure and high levels of productivity. This is the point that they are able to adjust to any kind of changes in the economy and with customer demand.