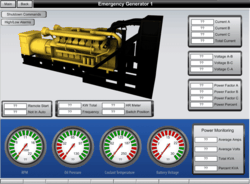 These graphics can be used in existing BAS software to create interactive navigations for quick access to view floor plans, equipment details, alarms, temperatures, and more.
Ankeny, Iowa (PRWEB) April 21, 2011
QA Graphics, an industry leader in the design of BAS graphics, has expanded their graphic outsourcing services for the building automation industry to provide custom BAS graphic solutions which allow integrators to make their system graphics more interactive and easy to navigate.
A core part of QA Graphics' business is graphic outsourcing, taking mechanical control drawings and creating system graphics for the end user. With this experience, QA Graphics offers custom solutions to help integrators provide their end users with BAS graphics that are interactive and easy to navigate. QA Graphics' design team of trained mechanical engineers can provide high-end background images that can be used to create a variety of interactive navigations in users' existing building automation system software. A variety of buttons and 3D images can be created to enable more realistic representation of campus maps, buildings, machinery and floor plans. These images can be used in existing software to create interactive navigations for quick access to view floor plans, equipment details, alarms, temperatures, and more. QA Graphics can develop BAS graphics that can be integrated with existing backgrounds as well as create custom templates which integrators can then use to create interactive BAS Graphics with navigation.
QA Graphics is experienced with the following building automation systems:

Alerton
Andover
Automated Logic
Computrols
Delta
Distech
Honeywell
Johnson Controls, Inc.
KMC Controls
Reliable Controls
Siemens Building Technologies
Teletrol
Trane
Tridium AX and R2
In addition to providing custom BAS graphics, they also have developed the BAS Symbol Library, which offers more appealing and realistic graphics than typically provided with BAS software. It allows users to maintain their existing building automation software while accessing high-end graphics to provide their customers with a nicer looking user interface. This graphics library provides over 310 static graphics and more than 95 animated graphics to construct BAS graphics and HVAC graphics. Key symbols include boilers, chillers, dampers, filters, piping, fans, cooling towers, generators, valves, ductwork, coils and more, allowing users to create more than 95% of all mechanical systems.
For most BAS software, the library is provided for unlimited use by one physical company location and may be used by additional locations for a one-time licensing fee. For users of Tridium NiagaraAX, QA Graphics has developed a module that allows the library to be licensed for use on a PC, Supervisor or JACE. The BAS Symbol Library has been implemented at numerous facilities across the country and several leading control system manufacturers have worked with QA Graphics to develop custom libraries.
To learn more about QA Graphics' BAS graphic outsourcing capabilities or BAS Symbol Library, contact QA Graphics at 515-965-3403 or visit http://www.qagraphics.com/solutions.
About QA Graphics
QA Graphics is an innovative graphic development company specializing in the building automation industry. The company is an industry leader in the design of system graphics, symbol libraries, HVAC graphic development, user interfaces, and award-winning energy education dashboards used to showcase building performance and sustainable initiatives. QA Graphics also provides a comprehensive offering of creative services including 3D design/animation, building displays, multimedia and interactive content.
# # #