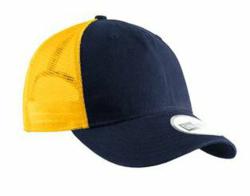 Hilton Head Island, SC (PRWEB) April 25, 2013
Another fashion staple in the 90s is making a comeback this 2013 and it looks like it's here to stay. Fashion gurus has seen the flat bill and trucker hat --- once again --- a street styler's must-have accessory.
Trucker hats define the urban fashion scene. They are very popular among the young crowd, always seen paired with urban outfits like denim and custom printed t-shirts. The most popular would be the trucker mesh hats and flat bill hats displaying the logo of popular baseball teams. To say that the market is filled with custom baseball hats is an understatement. In line with this, online printing store Shirtmagic releases new styles of trucker caps and Flat bill hats for custom printing.
While machine-stitched logos are popular for baseball hats, custom embroidery provides a more pronounced design; it gives contrast to caps in single color version. A digitized logo looks great especially on caps often used as part of sports merchandise like the NBA, MLB and even sports entertainment show WWE.
From twill caps to flexfit cap and beanies, there are other styles to choose from if customers want to create their own hats to suit their taste. But 2013 is the year for baseball hats. Trust Alexander Wang --- known for his masculine designs for women's wear --- to resurrect a street styler's favorite accessory with an edge. Other fashion designers who gave a different beat to baseball caps include Donna Karan (DKNY), Carine Malrino and Jeremy Scott. During the Spring/Summer '13 collection fashion show, these famous fashion experts featured the most stylish baseball hats for women, paired with stiletto pumps, metal-mesh bodice, slightly over-sized jacket and luxurious earrings.
Wearing a hat compliments a certain look. It can blend well with any outfit and makes anyone look good or the opposite, depending on one's sense of fashion. The real beauty of baseball hats lies on its several purposes, like protection from the heat and head cover when having a bad hair day. So when choosing a hat, always consider the purpose and make sure it serves a need. Bestselling hats are from brands known for quality and durability.
Shirtmagic
3 Cardinal Court
Hilton Head, SC 29926
(843) 681-7300