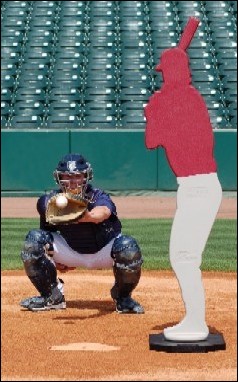 With the very first DH, we've offered a money-back, full satisfaction guarantee
Yukon, OK (PRWEB) January 24, 2007
It was no surprise to Steve Zawrotny and Jim Haller when their Designated Hitter, the DH, was voted the Best In Show pitching aid at the 2007 American Baseball Coaches Association Convention held this month in Orlando, Florida.
The Designated Hitter is a virtually indestructible, mirror image of a real-life batter. It won instant approval among the convention's 3,500 attendees, including coaches from every level of the game.
"Coaches are using it to replace items like trash cans and football blocking-dummies that were once used in pitching drills to imitate batters standing at the plate," explains Haller, a former L.A. Dodger pitcher who along with Zawrotny invented the DH. "They like how the DH displays all of the hitter's key landmarks, giving pitchers a complete image of the strike zone. This, in turn, helps pitchers develop more consistency in the accuracy and trajectory of their pitches."
From the start, Haller envisioned the DH as a versatile training product. More importantly, he wanted the innovation to improve the pitching skills of baseball and fast-pitch softball players of all ages and skill levels. Today, the DH has a broad market range from youth leagues to the big leagues. In fact, the market penetration includes professional teams like the Seattle Mariners and Arizona Diamondbacks and college teams like Rice, the University of Nebraska and the University of North Carolina, which are now using it daily, touting its advantages.
"The DH is a great alternative for live hitters It allows our pitchers to visualize throwing to spots, and build confidence to throw the ball inside. It's a tool we will continue to use at Rice University," says David Pierce, Pitching Coach for Rice University.
At about 38 pounds, the DH is lightweight and easy to use in pitching drills. Each switch-hitting batting figure also features a unique Inside Pitch Target to give pitchers a guide as they practice pitching inside and jamming hitters. All of these features ensure fast pitch softball and baseball pitchers are able to experience more realistic pitching practice sessions.
"You need a batter to fill out the strike zone," says Zawrotny, a certified strength and conditioning specialist. "Without one, it's hard for pitchers to develop the consistency they need in hitting their spots. Coaches and pitchers are starting to wake up and see what's wrong with how we typically train pitchers - throwing to a catcher and an empty batter's box. With the DH, pitchers can develop their skills in a more game-like setting, without risking harm to a live batter."
The DH saves coaches and players time by keeping them out of the batter's box, freeing them up to work on other aspects of their game. It is also the perfect tool to help young pitchers get comfortable pitching to a batter while overcoming the fear of inadvertently hitting one. Furthermore, the DH is so versatile that catchers can use it to practice fielding bunts or gunning down runners trying to steal. With the DH, it is much easier for coaches to recreate game scenarios on the practice field, while better preparing players for games.
"Safety and durability are also part of the DH," adds Zawrotny. "That's why the DH has a flat surface and beveled edges. They virtually eliminate ricochet balls."
When asked about durability, Zawrotny just chuckled. "With the very first DH, we've offered a money-back, full satisfaction guarantee," he says. "But it seems that once the DH gets in the line-up nobody wants to part with it. It is simply that good."
To learn more about the DH, visit http://www.PitchingPractice.com/pr3 or call 405-373-3253 for more information.
###