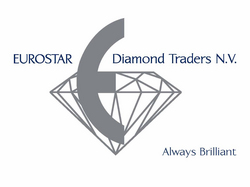 Antwerp, Belgium (PRWEB) March 11, 2008
Eurostar Diamonds International has announced today that it will launch its $2 million annual B2B marketing campaign at BaselWorld 2008. A pre-show advertising burst is already well underway.
The high-profile campaign features the '360˚ Eurostar: Trusted by the World's Most Prestigious Watch & Jewellery Brands' positioning, which highlights the company's strong market reputation and strategic competencies in precision calibrated diamond manufacturing and marketing.
Kaushik Mehta, Chairman of Eurostar, commented: "Over the years, Eurostar has gained the trust of the world's most prestigious watch and jewellery brands. This trust has enabled us to establish 360˚ relationships with leading downstream B2C brands and retailers, including the world's top ten luxury watch and jewellery houses. The solid infrastructure behind our brand promise is the driving force behind this success because it enables us to continually stand by our word to our clients. This commitment reflects both our heritage and our future strategy."
In addition to brilliant creative, extensive media planning forms the backbone of the new campaign. With over 50 outside back covers in leading industry publications worldwide as well as exclusive online roadblock advertising on key industry Web sites, the campaign is set to solidify an already strong brand message for a rapidly growing industry leader.
Whilst Eurostar does not have a direct B2C marketing strategy and has no intention to launch one any time in the foreseeable future, the company clearly has longstanding strategic partnerships both upstream and downstream. Being a Sightholder, Eurostar...
For full article and campaign photos, please visit EurostarDiamond.com.
Eurostar Diamonds International has been a Diamond Trading Company Sightholder since 1986. Eurostar is a key Forevermark Diamantaire. Eurostar's Board of Directors include: Kaushik Mehta, Sachin Mehta, Kunal Mehta, and Ashish Kothari.
###