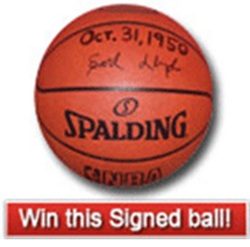 "Crossing of the color barrier in the NBA by African-American athletes is an anniversary we must honor. It has been forgotten by too many." Peter Featherston, President of Meaningful Posters.com.
Fairfield, CT (PRWEB) November 20, 2010
In celebration of one of the most important moments in American sport and African-American history, Meaningful Posters is giving away three (of only six basketballs) signed by Mr. Lloyd. All are owned by Meaningful Posters.com and none are for sale.
"On October 31, 1950, Mr. Lloyd became the first black man to play in the NBA. He is cut from the same cloth as the great Jackie Robinson. His feat is especially important when you remember he played in a highly segregated city where fans literally sat on the floor within spitting distance. He and the late-Nat Sweetwater Clifton and late-Chuck Cooper helped blaze a trail of equality in basketball, sport and America itself. They nudged doors open even as restaurants and hotels closed theirs to them as they traveled game to game. Together, these three men changed the game by living inspirational lives. We are thrilled to give away three balls Mr. Lloyd signed for us - one ball for each of the men who entered the league that year. Each ball is inscribed with the date of Mr. Lloyd's first game (October 31, 1950) and signed by him. We are pleased to do our part to help remember these men and this momentous event so long overlooked," said Featherston.
Three lucky fans will add a rare, valuable basketball to their collections this year. Three separate drawings will take place on December 25, 2010 - one winner will be announced per ball.
To enter the 2010 Great Basketball Giveaway go to http://www.GreatBasketballGiveaway.com or http://www.MeaningfulPosters.com.
# # #