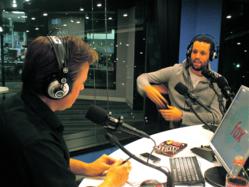 its come down to marketing.. they haven't realised their competition is not just the AFL or NRL, it's the internet and Nintendo Wii ... it's an attention economy these days, and they are not doing what they need to, to get the attention of their audience
Melbourne, Australia (PRWEB) July 19, 2012
From his offices in Melbourne yesterday on ABC 612 radio in Brisbane, Pete Willaims said "its come down to marketing.. they haven't realised their competition is not just the AFL or NRL, it's the internet and Nintendo Wii ... it's an attention economy these days, and they are not doing what they need to, to get the attention of their audience."
Williams' on air comments came yesterday off the back of a huge wave of online Twitter conversation, sparked by two articles he's written that were retweeted by, Australian NBA player Andrew Bogut - https://twitter.com/AndrewMBogut/status/225183059912306690 and https://twitter.com/preneur/status/225141652006780930
"It's unfortunate that the state of Basketball in Australia is where it's at right now" Williams says "the people in power at Basketball Australia have their hearts absolutely in the right place, there is no question there ... however unfortunately they have been focusing too much on improving the quality of the game/league itself... but it's not about the product, it's about the marketing."
Like any business or product, Williams argues, having a good product is a given... but to get people to pay attention it has to be marketed well. "... and in the case with Basketball, taking the family to a game is an entertainment choice, and there are so many alternatives these days... the league need to get back to building the personalities the sport had in the 1990s."
For more information on Pete William's ideas for 'Saving Basketball and the NBL' & 'Reviving A Brand - The ABC's of the NBL' read Pete's highly popular blog post (linked above in Boguts Tweets).
For interviews contact Pete Williams on 03 9536 2816