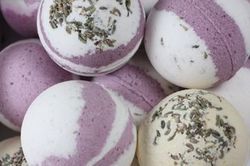 So, the question became, what makes a bath bomb great? Well, it took a year of research and testing, and today we're proud to announce that we did in fact develop the world's finest luxury bath bombs.
Portland, Oregon (PRWEB) January 22, 2009
Beau Bain, French for "Beautiful Bath," today launched its new bath products web site (http://www.beaubain.com) bringing a new level of sophistication and luxury to the design and development of popular "bath bombs." Beau Bain has completely redefined the bath bomb by elevating the quality of ingredients, the complexity of the fragrances, and the sophistication of the design. Twenty brand new luxurious bath bombs are available in five themed collections including Spa, Fruit, Floral, Lavender, Ice Cream, and its marquee product the "Grand Collection" which includes all twenty bath bombs.
In addition to its new bath bombs, Beau Bain offers other bath products like luxury body scrubs, body washes, body crèmes, and lotions. Beau Bain markets and supports its natural, paraben‐free, eco‐friendly products directly through beaubain.com.
Bath Bombs, also known as bath fizzies, have gained in popularity in recent years, with numerous boutiques and national bath products chains introducing these effervescent bathing treats to millions of customers across the United States and Canada. Wikipedia describes the bath bomb as a 'form of bath fizzie, a bolus which, when placed in bath water, dissolves partly or completely and effervesces, also in some cases adding scent, color, and/or other properties or materials to the water.'
Like many founders of new businesses, Beau Bain's founder stumbled into the opportunity as a dissatisfied but passionate consumer of an emerging bath product category primarily referred to as bath bombs. "I quickly became addicted to bath bombs, using them daily, and as a result I tried all kinds of products that I found both online and off. And my conclusion was that there are in fact some good ones out there, and there are many more not‐so‐good ones, and I thought -- I bet there's a market for truly great ones!" said Kimberly Mitchell, founder and CEO of Beau Bain. "So, the question became, what makes a bath bomb great? Well, it took a year of research and testing, and today we're proud to announce that we did in fact develop the world's finest luxury bath bombs."
The Beau Bain Bath Bomb Difference -- Aesthetics, Ingredients, and Fragrances
You'd think something as simple as a bath bomb couldn't be improved upon, but Beau Bain has elevated the state of the art in this emerging new category in three significant ways. Specifically, the company's new offerings look, smell, and feel better on the skin than anything available on the market today.
Bath Bomb Ingredients That Make A Difference -- Beau Bain believes that how the bath bombs make the skin feel is even more important than how they look or smell, and uses several different oils, vitamins, and many of the bath bombs even include assorted clays, dead sea salts, and other unique ingredients that actually moisturize the skin. Many bath products on the market today are focused on the novelty and fragrance of the bath bomb, and this is often at the expense of the user's skin.
Fragrances That Relax and Reinvigorate -- The scents have been carefully selected and mixed for each bath bomb, and gathered in complementary collections, to deliver not just an appealing fragrance -- but a truly therapeutic aromatherapy sensation.
Aesthetic Excellence -- Ultimately beauty is indeed in the eye of the beholder, but the company has matched the look and feel of the bath bombs with their fragrance adding actual floral petals to many bath bombs, clay with others, and coordinating custom color combinations that deliver an experience of luxury and relaxation, not frivolity or novelty. Further, the bath bombs are handmade, tightly packed, neatly manicured, and placed in breathable shrink‐wrap to maximize the preservation of the fragrance as well as the vibrancy of the bath bomb's colors.
Testing is a key component to bath product development at Beau Bain. Company Founder Kimberly Mitchell elaborates, "We've designed and tested our own recipes for nearly a year, making sure that in blind tests our products prevailed over market leaders. Additionally, we made our bath bombs more visually appealing than any we could find. We of course tested, tested, and tested our designs as well. The result of this hyper analytical and methodical approach is a 'state‐of‐the‐art' bath bomb -- one that is visually, scientifically, and experientially unequalled."
The Bath Bomb Product Line -- A La Carte, Collections, and The Grand Collection
Bath Bombs "A La Carte" -- Beau Bain has created 20 of its signature bath bombs, and all are available individually through the company's web site. The suggested retail price is $8.00 each.
The Bath Bomb Collections -- There are five themed bath bomb collections, namely Spa, Fruit, Floral, Lavender, and Ice Cream, and their contents are as follows;
The Spa Collection includes Coconut Lemongrass, Spearmint Eucalyptus, White Tea & Ginger, and Cucumber Melon
The Fruit Collection includes Pear Bamboo, Citrus Orange, Spicy Mango, and Juicy Peach
The Floral Collection includes Rose Garden, Jasmine Breeze, Hibiscus Rain, and Marigold Summer
The Lavender Collection includes Lavender Fields, Lavender Vanilla, Lavender & Black Amber, and Lavender Rosemary
The Ice Cream collection includes Dark Chocolate, French Vanilla, Rainbow Sherbet, and Peppermint
The collections are available in both small (4 bombs for $29) and large (8 bombs/2 of each for $49) and are shipped in gift packaging or in eco‐friendly, self‐mailer boxes.
The Grand Collection -- The most popular product at Beau Bain, this comprehensive collection includes all 20 of the company's bombs in one large gift‐wrapped box. The suggested retail price is $149 and is available on the company's web site.
A Complete Luxury Bath Products Line -- Not Just Bath Bombs
In addition to its signature luxury bath bombs and collections, the company offers luxury body scrubs, body washes, body crèmes, and lotions. The company markets and supports all of its natural, paraben-free, eco‐friendly products directly through http://www.beaubain.com.
About Beau Bain
Beau Bain is a leading independent vendor of artisan bath bombs and other natural luxury bath products. The Company was conceived to showcase luxury bath products that blend unbridled American ingenuity with refined French elegance. Though made in the USA, the company sources its ingredients and inspiration from all over the world. The Company contributes a percentage of its sales to several important causes through its foundation.
For more information and to keep informed about new bath product introductions, please visit Beau Bain's Web site, http://www.beaubain.com. Media and other inquiries please contact Craig Barnes of CB+A Media by e-mail at craig at beaubain.com.
###