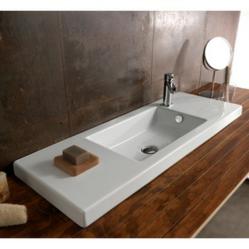 While getting a big, double bathroom vanity is maybe the most obvious choice, it definitely isn't the only one, and might not even be the best one for the bathroom.
(PRWEB) December 27, 2012
HomeThangs.com – the Home Improvement Super Store has made their goal to deliver the right product to the consumer, with that in mind, shopping and home design tips, as well as special product selections are being introduced.
Those who have a decent sized master bathroom, probably want to have two sinks, both for personal convenience and for the home's resale appeal. But while getting a big, double bathroom vanity is maybe the most obvious choice, it definitely isn't the only one, and might not even be the best one for the bathroom. HomeThangs.com introduced a tip sheet to help think outside the box when planning a big master bathroom remodel.
1. Wall Mounted Double Vanities
There are many advantages to wall mounted bathroom vanities, and they happen to be a great choice for a master bathroom, especially one that might be a little too small or oddly shaped for a traditional double vanity. Because wall mounted vanities, like the Blox vanities from Xylem, are literally smaller, are almost always jam-packed with useful storage, and are much more flexible. They can be mounted just about anywhere in the bathroom – not necessarily side by side. This takes up less space than a double vanity, or even two smaller standard vanities would, opening up new potential layouts for the master bathroom without sacrificing much in the way of storage space.
2. Modular Double Vanities
This is maybe the most similar to getting a regular, extra large double vanity but with one important difference. Modular double vanities like the modular vanity set from Silkroad Exclusive for example, can be installed as a single unit, but they can also be installed in up to three separate pieces. These are basically two individual, smaller bathroom vanities and a matching storage cabinet that can be pushed up together to assemble a seamless single vanity. But because modular bathroom vanities are completely finished, even on the "hidden" sides, one can easily install each of the pieces either spaces slightly apart. They can even be installed in entirely separate areas of the bathroom to get exactly the size and spacing needed while maintaining a coordinated look.
3. Pedestal Sinks
Great for an older home with a smaller master bathroom, pedestal sinks offer a sophisticated, classical style with a very small footprint. Now, of course, they aren't really bathroom vanities at all, and obviously aren't winning any awards in the internal-storage department. But pedestal sinks like the Memoirs Pedestal from Kohler for example, are a traditional choice for a turn of the century home. In a traditional master bathroom from that time period (with hex tiles on the floor, subway tiles on the walls, and so on), a pair of pedestal sinks can not only help the bathroom blend in with the rest of a traditional home or master suite, but create a bright, open feeling that can make the bathroom seem bigger than it is. Losing storage space should not be a concern either, since one can put a pretty big storage cabinet between the two pedestal sinks without crowding the space as much as a traditional double vanity would.
4. Console Vanities
This one might seem a little strange, since console vanities often take up about as much space as a traditional single vanity. But these are a good choice for a master bathroom for the simple reason that they come with built in towel storage. This is so important because, chances are, two sets of towels are probably taking up a pretty good chunk of the wall space in the master bath. Moving the towels to the sides of a console vanity, like the Metal Console from Empire for example, opens up the walls for more accessible, better organized storage cabinets, which can really optimize the storage space.
5. Wall Mounted Sinks
Not just for teeny tiny master bathrooms anymore, modern wall mounted sinks – especially those from European designers – are actually a sleek, unique-looking alternative to a traditional double vanity. Either two separate wall mounted sinks – or one long, trough-style sink like one from Ceramica Tecla offer ample counter space for two. And while they, obviously, don't have any of the drawers or cabinets, they create a wide, open, modern look and feel for your master bathroom that can easily be supplemented with storage cabinets, medicine cabinets, or even shelves.
6. Water Closet
Those who have the good fortune of having a master bathroom that's on the larger side, might want to consider adding a water closet with a sink instead of (or in addition to) a more traditional double-sink setup. A water closet can be anything from a toilet behind a tiled half wall to a completely sectioned off small room. Sectioned off water closets are a great way to add privacy to a shared bath, and incorporating even a very small extra sink, like the China Sink from Whitehaus adds functionality without sacrificing space. Especially if having one big, lit, grooming-oriented area, a second small sink allows a quick tooth brushing and hand washing, even if the rest of the bathroom is being hogged.
HomeThangs.com is not only a home improvement superstore, it also provides expert design tips and a comprehensive shopping guide, taking the ideas from professional interior designers, and offering tips to the consumers on how to pick the products to best suit their needs.