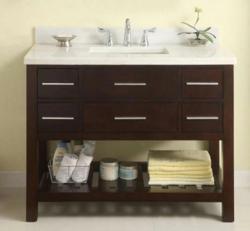 Open style bathroom vanities work very well, because they blend a simple transitional style with a roomy drawer and counter top storage, but leave a large open space beneath the cabinet for combination storage and display.
(PRWEB) March 15, 2013
HomeThangs.com – the Home Improvement Super Store has made their goal to deliver the right product to the consumer. With that in mind, shopping and home design tips, as well as special product selections are being introduced.
Contemporary bathrooms emphasize clean, simple lines and open, uncluttered spaces. The first one is more or less easy to attain –it's sort of built into the furnishing. But keeping clutter at bay in any room of the home – especially one as frequently used as the bathroom – isn't quite so easy. It's why choosing the right bathroom vanities is so important – and why, even with the best laid cabinetry, it's sometimes a good thing that master bathrooms are kept separate. For real people in a real bathroom, keeping everything neat and tidy 24/7 isn't really feasible, but balancing a casual contemporary style and embracing the clutter can be. HomeThangs.com introduced a tip sheet to offer tips on how to use bathroom space wisely and make it look even better.
The first step towards getting style in the bathroom that will still look good the day after it's been cleaned is to embrace some of the clutter. This might sound strange, but while hyper modern design emphasizes strict showroom cleanliness, more casual contemporary spaces work well with small, homey touches. HomeThangs.com explains why open style bathroom vanities work very well in this case.
In most cases not all that stuff which is stowed in a closed bathroom vanity cabinet is something one wants on display. HomeThangs suggests that certain items – like towels or rolled washcloths, spare toilet paper rolls, decorative containers of gauze or cotton swabs, or even oft-used bottles of soap or skin care products – have their own homey aesthetic value when left on display on an open bathroom vanity.
In their tip sheet HomeThangs.com also offered a selection of bathroom vanities to help de-clutter bathroom space. These include high quality brands like Empire Industries, Virtu USA, Ronbow, Sagehill Designs and more.
Having a bathroom that looks clean isn't merely about literal tidiness. HomeThangs.com shows how the use of white space helps open up the bathroom, making it seem larger, brighter, and more inviting – especially when paired with light walls and lots of natural light.
The tip sheet also addresses smaller bathroom spaces. Pictures, examples and product selections help get a better idea on how to better organize a small bathroom
Considering the color of the vanity is an important step to building a casual contemporary bathroom design. Dark wood is a good, modern-leaning choice (and one common in contemporary and transitional bathroom vanities), but HomeThangs suggests that other options, including white, should not be discounted either.
For more information read a full version of 'Building A Casual Contemporary Bathroom By Embracing Your Clutter'
HomeThangs.com is not only a home improvement superstore, it also provides expert design tips and a comprehensive shopping guide, taking the ideas from professional interior designers, and offering tips to the consumers on how to pick the products to best suit their needs.