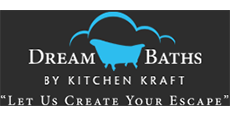 We are really pleased with the work they did.
Columbus, Ohio (PRWEB) March 20, 2013
Homeowners searching for a Columbus bathroom remodeling contractor need look no further than the historic German Village area, where the business is located. Experienced designers on staff will take homeowners through the process, from concept to final touches. A certified designer will visit the home to measure and design a bathroom that fits your space. Once design plans are finalized, the production team takes over. Since every element is managed by the firm, homeowners do not have to hire and manage multiple contractors. Dream Baths does it all.
Choosing a bathroom remodeling company can be the most critical decision made during a remodeling project. That is the time to do some homework and ensure an experienced professional will be completing the work. One of the best ways to find a contractor is asking friends for referrals, according to Senior Designer Sandy Beyer. She also recommends asking questions about how the firm manages a project and whether the company belongs to industry associations like NARI (National Association of the Remodeling Industry or NKBA (National Kitchen and Bath Association).
Dream Baths designers use 3-dimensional software to demonstrate the final result before a single hammer is slung. The software allows designer and client to visualize the final outcome and make tweaks before commiting to a design or finishes. Designers can change the countertops from marble to granite, or the cabintry from dark wood to a painted finish with the click of a button.
"Not only were they very organized, but they showed excellent workmanship."
A new website, http://www.dreambathsremodeling.com, invites customers to explore an expansive selection of finishes. Offering everything from flooring to plumbing, the company smoothes the process by keeping every detail under one roof. Homeowners can browse the design gallery to explore multiple finishes for countertops, cabinets and fixtures. To get started, they can contact a Dream Baths designer for a personal consultation.
Experienced Dream Baths bathroom designers offer tips on the website's blog covering everything from how to choose a bathroom contractor to design trends. Homeowners considering a remodeling project can start there to get expert tips and learn about the remodeling process.
The Columbus, Ohio-based design firm has been creating kitchens and baths since 1995 as Kitchen Kraft. DreamBaths is the result of a recent expansion of the bathroom remodeling side of the business. Dream Baths is a full service residential bathroom design, build and remodel firm.