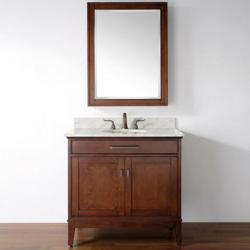 If you're caught between wanting a more updated look and wanting to stick with the warmth and comfort of a traditional style, transitional bathroom vanities are an excellent way to add a casual contemporary sophistication to the bathroom.
(PRWEB) November 15, 2012
HomeThangs.com – the Home Improvement Super Store has made their goal to deliver the right product to the consumer, with that in mind, shopping and home design tips, as well as special product selections are being introduced.
For the first time ever this year, transitional style surpassed traditional design as the most popular choice for bathrooms. In fact, the shift toward more contemporary styles is one of the most important bathroom trends for 2013. HomeThangs.com introduced a few tips to help understand what that exactly means and how it applies to your bathroom. Homethangs has presented transitional bathroom vanities as an example of how one can bring a more modern design into a bathroom without sacrificing the best parts of a traditional style.
1. What Is Transitional
Transitional design simply means that it's a style that's part way between (or transitioning between) traditional design and modern design. Practically, that means there are a lot of traditional materials – in the case of transitional bathroom vanities, we're talking wood – but with simplified and streamlined modern lines. Madison Vanity from Avanity is a great example, with rich, tobacco finished birch veneers, but simplified lines and simple modern hardware.
2. Why Transitional
If transitional bathroom vanities are half way between traditional and modern, why not just opt for one or the other? The answer is fairly simple: modern bathroom vanities can be too modern, with unadorned lines and a chilly industrial palette, while traditional or even antique bathroom vanities can be a little over the top for a contemporary home, with lavish woodwork and ornate designs. Transitional bathroom vanities, like Howard Vanity from Carolina Accents for example, really offer the best of both worlds, with warm, homey wood tones and a simple, slightly classical style with smooth, contemporary lines that will fit in a modern home.
3. Transitional Styles Are Comfortable Styles
While big, beautiful, antique bathroom vanities have their place, it's no longer in the average American home. These days, it takes some guts to pull off a really elaborate bathroom vanity - and a big, beautiful bathroom to go with it. From the gradual disappearance of the formal dining room to wearing white after labor day, America has grown into a more casual culture, and transitional bathroom vanities, such as Lutezia Modernique from Porcher for instance, are just one reflection of that – they're still sophisticated, but a whole lot simpler, more casual, and especially more comfortable.
4. For Those Who Like Tradition
Transitional bathroom vanities aren't just a small subset of vanity styles; they actually run a pretty broad gamut between traditional and contemporary, with varieties that tend toward either end of the spectrum. Take this Glenayre Vanity from Xylem – it has extremely traditional cherry wood veneers, and a strong hint of classical design, with beautifully framed drawers and doors and bun-style feet. But ultimately it's much simpler than a "real" traditional vanity, offering a more traditional look and feel but a more contemporary style that will make the bathroom feel fresh and updated without making it seem "modern" at all.
5. Simple But Stylish
Just because transitional bathroom vanities are simplified doesn't mean that they're simple or boring. It just means they have a slightly different emphasis than either traditional or modern bathroom vanities. Expressions Vanity from Cole+Co is a great example. The simple modern lines allow it to showcase a more traditional wood grain, with a gorgeous cross-cut bamboo panel on the front, and subtle rub-through details on the matte black finish. There's nothing particularly ornate about this vanity, but it's beautiful in its simplicity, with a slight Asian flair that can turn this relatively simple piece into a signature focal point in the bathroom.
6. For Those Who Have a Historical Bathroom
Bathroom vanities can be a pretty touchy point in historical – talking, turn of the century – homes. The most traditional choice would probably be a pedestal sink or console lavatory, but in order to keep a traditional look while affording a reasonable amount of storage, something like Savina Vanity from Porcher would be good choice. It has the same simple, smooth white lines found in a classic cottage style bathroom, but with ample interior storage and a slightly more contemporary feel that can help combine a modern lifestyle with a historical home.
So if you're caught between wanting a more updated look and wanting to stick with the warmth and comfort of a traditional style, transitional bathroom vanities are an excellent way to add a casual contemporary sophistication to the bathroom.
HomeThangs.com is not only a home improvement superstore, it also provides expert design tips and a comprehensive shopping guide, taking the ideas from professional interior designers, and offering tips to the consumers on how to pick the products to best suit their needs.