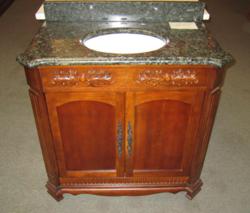 Dynamic inventory is the only way to compete with big box retailers
Jamestown, NY (PRWEB) March 12, 2013
Smart By Design has found a way to provide the highest quality bathroom vanity and kitchen counter products while still being able to compete with big box retail prices. National chain retail stores have been pushing out small locally run business, especially in the home repair market. Most just can't compete with the prices that they are able to offer and the pure volume they move. Smart By Design has found a new formula to deal with this difficult problem. By carrying a dynamic inventory, it's possible to get the best quality items at extremely low prices, providing customers with incredible value.
By purchasing their inventory from trade shows, dealer buyouts, and through their own back channels Smart By Design keeps inventory flowing through its stores while keeping its overhead low. Customers may never see the same item twice, but they'll also never see the quality items at prices even twice that of what Smart By Design can offer.
About Smart By Design - Smart By Design is a kitchen and bath retail store located in Jamestown NY that offers highly competitive prices on cabinetry, vanities, full kitchens, countertops, hardware and more. Smart By Designs high quality in-stock vanities and cabinetry are literally a fraction of the competition's prices. Smart By Design's friendly staff can fully design your kitchen using 3D software and take care of all the personal details for your custom kitchen. Whether cabinetry, countertops or anything else, you always get the personal touch at Smart By Design. Two miles west of Jamestown NY in Lakewood.