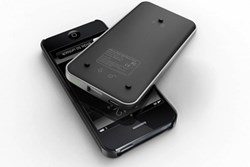 Denver, Colorado (PRWEB) March 04, 2013
Accessories and battery cases for iPhone have been around for years now, but it is the recent release of the iPhone 5 with the 30-pin Lightning connector that has both producers and buyers in frenzy.
According to http://www.iPhone5Batterycase.net CES 2013 was the perfect timing for producers to show off their fashion forward accessories for iPhone 5 and each strives to give the end user sleek design, sturdy protection and appealing functionality.
But given the significant number of iPhone 5 battery cases and similar accessories available in today's market, choosing the right product has become a difficult task, particularly for the buyer on a budget.
The iPhone 5 Battery Case reviews are following the CES 2013 displays and releases. The variety of products available is overwhelming even for the battery case collector: metallic jackets, see-though cases with theater stands, highly functional design that makes it possible to add all kinds of accessories to the iPhone 5 case, products designed by popular artists, battery cases that provide protection and boost the device's power. Prices also range from at least $20 to $100.
Buyers do want battery cases for their iPhone 5, some for increased battery life, others just to make a fashion statement, but more and more are interested in functionality. "Female iPhone users probably have 25-30 cases. They swap out all the time because they want different colors to match what they're wearing" explains Joel Martin, Director of Merchandising at Smartphone Experts about the lush variety of iPhone 5 cases.
At CES 2013, each iPhone accessory maker had something to show off. BoostCase swept everybody off their feet with Metallic Stud jackets for iPhone 5, whereas Smallworks went all in with an iPhone 5 case that serves both as a protective unit but also as a building platform for Lego. ZeroChroma went in favor of an iPhone 5 case design that shows off the device's sleek design, while providing support for hands-free gaming, movie watching, FaceTime and photography via the Theater-Stand 360 VarioClear case.
iPhone5 Battery Case is a website that pertains to the iPhone 5 user interested in products that provide sturdy protection and increased power. The website features reviews and news, discount alerts and consumer feedback related to popular iPhone 5 battery cases and protection accessories, such as jackets and snap cases.
iPhone5BatteryCase.net keeps track of every new iPhone 5 accessory release and delivers consumer-oriented reviews for battery cases that take into account design, durability, quality, price, discounts, mAh power, Apple certification, other products and so on.