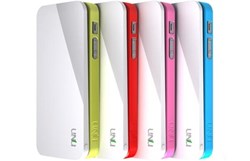 Denver, Colorado (PRWEB) March 20, 2013
For most people, iPhone 5 is a premium investment that requires some money-saving and a good deal with a phone carrier. These buyers want to be able to use their pricey smartphone to its fullest extent but they also need to protect it against potential damage that might cut into its resale worth.
Battery cases for iPhone 5 have thus become a hot item on a buyer's list, but the diversity of product is making it hard to know for sure which are the most valuable cases.
According to the company if buyers were able to guide themselves using the price tag on iPhone 5 battery cases, recent evolutions in the market have leveled the price at $70 - $80 in most cases. Latest reviews released have proved that not all $80 battery cases for iPhone 5 will provide the same power, protection and design. It is easy to see how such a situation is impacting the buyer, particularly those limited by a small budget.
http://www.iPhone5BatteryCase.net has been reviewing battery cases for Apple's latest smartphone soon after the handset's release and has noticed more and more buyers are having a hard time buying the right battery case for their needs. The latest reviews published by Ironclad Integrity Ltd's website have been looking at battery cases for iPhone 5 priced under $80, particularly those very close in terms of cost and tech specs.
Reviews and extensive research have confirmed iPhone 5 battery cases priced around $80 are quite different in terms of design, mAh capability and overall protection. For instance, the $80 uNu Extended Battery packs a 2,500 mAh battery that doubles iPhone 5's standard usage time on a recharge, comes with sleek and functional design and is compatible with any other USB powered device.
On the other hand, for $79.99 the PowerSkin battery case for iPhone 5 features a 1,500 mAh in-built battery and overall design that feels a bit too classic and conventional for the premium Apple experience.
The iPhone5BatteryCase.net website provides the iPhone 5 owner interested in buying a battery case for their device with comprehensive reviews. These look at every aspect of the products available today, particularly price, battery capability, overall design, weight and protection offered. Reviews are also looking at products that sell for a similar price tag as well as consumer feedback to make sure buyers are getting the whole picture.