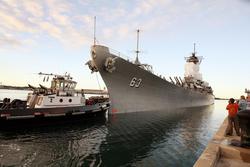 We created the Golden Rivet Circle to show our appreciation to those who choose to contribute to our continued efforts in this crucial year
Pearl Harbor (Vocus) October 15, 2009
Want to ride on a battleship? It's not too late! Members of the Battleship Missouri Memorial's prestigious Golden Rivet Circle, along with the memorial's Plank Owners Founding Circle, will have the opportunity to ride the ship when she exits drydock and is towed back to Battleship Row on Jan. 7.
The Golden Rivet Circle was established to recognize individuals and organizations that donate $500 or more throughout 2009, the memorial's 10th anniversary year. "Riveters" also receive free lifetime admission, an exclusive membership card, a special keepsake, special 65th Anniversary year invitations, and more (a list of Golden Rivet Circle and Plank Owner Founding Circle members is available online at: http://www.mightymomembers.org/plankowner ).
"We created the Golden Rivet Circle to show our appreciation to those who choose to contribute to our continued efforts in this crucial year," said Michael A. Carr, president and chief operating officer of the memorial. "As a non-profit organization, we rely on the generosity of individuals to help support our mission to honor and preserve the legacy of this historic ship and her legendary crew. In post dry dock years, we will focus contributions on education program development and special exhibits such as unique stories of individuals that reflect the values communicated in our mission.
"The Missouri's hull is held together by thousands of rivets. No one rivet is more important than the rest, and each piece plays its part in holding the ship together. Like so, donor contributions are an essential component to the success of the education programs and unique traveling exhibits that bring local friends and family to the Battleship Missouri Memorial."
While industrial-level work is being funded by multiple sources, contributions by Golden Rivet Circle members will directly fund the continued reinventing of the visitor experience and refining of currently successful educational programs like Mighty Mo Music & Math Band Program. To join, visit USSMissouri.og, call (808) 455-1600, ext. 244, or e-mail development(at)ussmissouri(dot)org.
For the most frequent updates about drydocking, follow @USSMissouri on Twitter or friend "Battleship Missouri Memorial" on Facebook. The friendly staff at The Battleship Missouri Store at Aloha Tower Marketplace is also available to answer questions.
Battleship Missouri Memorial is located a mere ship's length from the USS Arizona Memorial in Pearl Harbor. Following an astounding career that spans five decades and three wars, from World War II to the Korean conflict to the Liberation of Kuwait, the "Mighty Mo" was decommissioned and donated to the USS Missouri Memorial Association, Inc., a 501(c)(3) non-profit organization, which operates the battleship as a historic attraction and memorial. The association oversees her care and preservation with the support of visitors, memberships, grants and the generosity of donors.
Media Contact:
Keith DeMello
(808) 539-3482
Keith(dot)DeMello(at)MWC-Anthology(dot)com
###