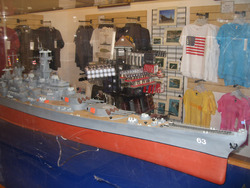 For those interested in information about the drydocking project, our staff is happy to provide the latest updates, as well as news on re-opening the ship in January. Just ask our friendly staff.
Pearl Harbor (Vocus) October 6, 2009
While the Battleship Missouri is in drydock for maintenance and preservation work this fall, visitors and local residents alike can still get their Mighty Mo "fix" at The Battleship Missouri Store, recently opened by the Battleship Missouri Memorial at Aloha Tower Marketplace.
Due to the ship's drydocking, the memorial, including its onsite Victory Store, will temporarily close Oct. 10 through the rest of the year. Much like the Victory Store, the new location features popular USS Missouri and Pearl Harbor-related merchandise and memorabilia, including clothing, jewelry, books and collectibles -- even commemorative teak planks from the ship's decks that hosted Imperial Japan's formal surrender that ended World War II. Shoppers can also explore a "mini-museum" complete with interpretive displays and a 1:96 scale model of the battleship.
"As an organization, it is important to us to continue to employ our staff even while the Battleship Missouri Memorial is closed for drydocking, particularly in the current job climate," said Michael A. Carr, president and chief operating officer of the memorial. "The Battleship Missouri Store is one way we are putting our team members to work while generating a modest revenue stream at a time when visitor admissions and tours are not possible. Depending on the store's level of success, we may consider keeping it open when we emerge from drydock and reopen in January."
Other ways the memorial is employing its existing staff during drydocking period is through participation in pierside enhancements, refurbishment of two boats (40-foot utility boat and 32-foot "gig") to be incorporated in the post-drydock visitor experience, and community outreach program like the "Mobile Mighty Mo," which takes the story and mission of the memorial to schools, businesses and community groups.
Carr added: "For those interested in information about the drydocking project, our staff is happy to provide the latest updates, as well as news on re-opening the ship in January. Just ask our friendly staff."
Store hours are from 9 a.m. to 9 p.m. Monday through Saturday, and from 9 a.m. to 6 p.m. Sunday. Valet and self-parking is available at nearly 600 parking spaces onsite at the Marketplace, offering discounted parking rates with a validation sticker from any of the stores or restaurants.
Managed by PM Realty Group, the 165,683-square-foot Aloha Tower Marketplace features more than 74 shops and award-winning restaurants. The marketplace is Hawaii's premiere waterfront destination for shopping and dining, and is The Honolulu Advertiser's 2009 selection for Best of the Best in nighttime entertainment. For more information, call (808) 566-2337 or visit AlohaTower.com.
The Battleship Missouri Memorial will temporarily be closed to visitor tours beginning Oct. 10 for three months of maintenance and preservation work in Pearl Harbor Naval Shipyard's largest drydock facility. The Mighty Mo will emerge from drydock in January 2010 fortified against the elements for decades to come, and ship-shape for commemoration activities marking the 65th anniversary of the end of World War II on Sept. 2, 2010.
Battleship Missouri Memorial is located a mere ship's length from the USS Arizona Memorial in Pearl Harbor. Following an astounding career that spans five decades and three wars, from World War II to the Korean conflict to the Liberation of Kuwait, the "Mighty Mo" was decommissioned and donated to the USS Missouri Memorial Association, Inc., a 501(c)(3) non-profit organization, which operates the battleship as a historic attraction and memorial. The association oversees her care and preservation with the support of visitors, memberships, grants and the generosity of donors.
Media Contact:
Keith DeMello
(808) 539-3482
Keith(dot)DeMello(at)MWC-Anthology(dot)com
###