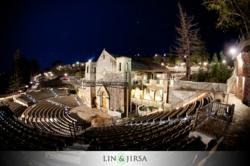 It is no secret that Mountain Winery concerts are a popular destination during hot summer nights
Campbell, CA (PRWEB) June 15, 2012
Bay Area ticket broker Top Notch Seats recently announced that it is offering a wide selection of tickets to the entire Mountain Winery2012 concert season in Saratoga, California, which includes performances by Kenny Loggins, Indigo Girls, Sarah Silverman, Ani DiFranco, Ziggy Marley and more.
"It is no secret that Mountain Winery concerts are a popular destination during hot summer nights," says Paul Hillig of Top Notch Seats. "Your chance to secure quality tickets at reasonable prices is here now at your fingertips."
Vintner pioneer Paul Masson bought the coveted mass of land and began to turn it into one of the state's premiere wineries in the first years of the 20th century. He took great care in reconstructing a chateau on one of the area's most scenic vistas, and he had a careful and skilled approach to making wines. He is credited as being one of the first winemakers to dabble in sparkling wines and in the century since his arrival, the area has turned into a paradise for folks all over Northern California, hosting dozens of concerts and other events every year. Before it changed hands to its current owners and operators, the winery was included on the National Register of Historic Places compiled by the U.S. National Park Service.
After a major renovation in 2008, the facility is now capable of welcoming more guests and providing them with increased comfort and amenities. Mountain Winery tickets to upcoming shows such as Kenny Loggins, Indigo Girls, New Edition and The B-52's are sure to be popular draws, but Top Notch Seats currently has a bevy of Mountain Winery concerts to choose from.
The facility is one of the single best places to listen to live music in all of the Northern California. Masson did an excellent job of surveying the land and coming up with the perfect spot to center the activity. The hill that the amphitheater is perched on overlooks the entire South Bay area, and the city's skyline can be seen clearly. When the sun disappears over the Pacific Ocean, the city lights down below give an amber glow, adding to the overall experience. Indeed, it will only take you a few moments of looking and walking around the facility to realize that Mountain Winery tickets are worth the price paid.
About Top Notch Seats
Operating from the heart of Silicon Valley since 1993, Top Notch Seats is an online leader in secure ticket sales. TNS supplies audiences with quality seating and tickets to all major concerts, theatre and sports events in the Bay Area and around the nation.
Top Notch Seats specializes in providing Bay Area concert tickets with a wide variety of seating options, which enables customers to choose their favorite vantage point. TNS is a licensed Bay Area ticket broker engaged in the business of buying and selling first-rate tickets. They do not sell tickets at face value; ticket prices are often well above face value and reflect the cost of obtaining quality seating.