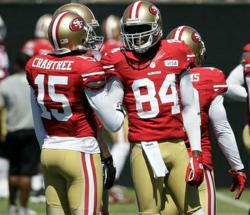 We guarantee every ticket we sell; when you buy from us, you can be assured they will get you into the game
Campbell, CA (PRWEB) September 13, 2012
The 2012 NFL season recently kicked off with a bang that was heard from Green Bay to New Orleans. A few teams have already made huge statements about their championship aspirations, including the San Francisco 49ers. Bay Area ticket broker Top Notch Seats is proud to announce that they are currently selling San Francisco 49ers tickets to each and every one of the eight home games on the team's 2012 schedule, and the time to act is now.
Top Notch Seats is a trusted source for great tickets to all San Francisco 49ers home games. They have been in business since 1993 and are a member of the Better Business Bureau. "We guarantee every ticket we sell; when you buy from us, you can be assured they will get you into the game," says Paul Hillig of Top Notch Seats. "All our tickets are 100% legitimate and guaranteed. If you need help deciding what the best seats are for you, give us a call. We are always here to help."
San Francisco 49ers fans have many reasons to be optimistic about this year's team, and a convincing opening weekend victory over the Green Bay Packers got the attention of the entire football world. Head Coach Jim Harbaugh is entering his second year at the helm of one of the NFL's most storied and successful franchises, and the team is returning 10 of its 11 starters on defense.
They've also added a number of weapons on offense, which would certainly make legendary 49er coach Bill Walsh proud. The 49ers were able to lure both Brandon Jacobs and Mario Manningham from a team that had just won the Super Bowl before the last pieces of celebratory ticker tape fell to the New York City streets.
To top it all off, Harbaugh was confident enough in the skills and disposition of veteran Randy Moss to bring him on board to lead a young and developing group of wide receivers. All of these additions have made buying tickets to a 49ers game very enticing for the millions of fans that reside in the San Francisco Bay Area and throughout Northern California.
San Francisco 49ers tickets to upcoming games such as the Sunday night showdown on national television against the Detroit Lions on the September 16th are still available, but they are going fast. Marquee matchups loom on the horizon, including a NFC Championship rematch against the New York Giants on Sunday, October 14th and a Monday Night Football affair on November 19th against the Chicago Bears. Anyone interested in tickets to 49ers games such as these or any of the other five home games should pay a visit to Top Notch Seats.
For more information about San Francisco 49ers tickets, visit topnotchseats.com.
About Top Notch Seats
Operating from the heart of Silicon Valley since 1993, Top Notch Seats is an online leader in secure ticket sales. TNS supplies audiences with quality seating and tickets to all major concerts, theatre and sports events in the Bay Area and around the nation.
Top Notch Seats specializes in providing Bay Area concert tickets with a wide variety of seating options, which enables customers to choose their favorite vantage point. TNS is a licensed Bay Area ticket broker engaged in the business of buying and selling first-rate tickets. They do not sell tickets at face value; ticket prices are often well above face value and reflect the cost of obtaining quality seating.