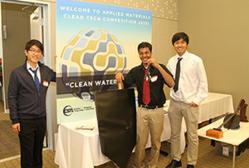 Rockville Centre, NY (PRWEB) May 02, 2013
Applied Materials, Inc. and The Center for Science Teaching and Learning (CSTL) today announced the San Francisco Bay Area grand-prize winning team and nine finalist teams in the 2013 Clean Tech Competition. The teams are:
1st Place:
-Liqua Men – The Struo
Monta Vista High School
Team Leader: Renee Fallon
Students: Kadhirvel Manickam, Bryan Wang, Shin Hoo Lee
2nd Place:
-Trap-N'-Kill
Lynbrook High School
Team Leader: Amanda Alonzo
Students: Ruchi Pandya, Susmitha Bhat
-Water Access Problems in Bangladesh
Henry M. Gunn High School
Team Leader: Maria Powell
Students: Alex Mallery, Jocelyn Liu, Lisa Liao
3rd Place:
-Helio Hydro Purification System
Saratoga High School
Team Leader: Jill McCrystal
Students: Alex Li, Aakash Thumaty, Spencer Yen, Amy Zhang
-Clean Water Access in Eastern Africa
Irvington High School
Team Leader: Kristi Lorenson
Students: Anjali Kumar, Sydney Ng
-Self-Sufficient Greenhouse
Cupertino High School
Team Leader: Daniel Stavis
Students: Yuzhang Chen, Ethan Shen, Davie Nie, Ken Kudo
4th Place:
-Thermoelectric Water Condensation
Dougherty Valley High School
Team Leader: Laxman Murugesh
Students: Priyo Murugesh, Shaan Somani, Mihir Reddy
-Clever Nitrate Buster
Henry M. Gunn High School
Team Leader: Elana Zizmor
Students: Annie Ku, Maya Miklos, Patricia Tang, Kathleen Xue
-Pure Rain
Henry M. Gunn High School
Team Leader: Danny Hahn
Students: Ruizhi Chen, Margaret Qian, Catherine Nguyen
-Reverse Osmosis Water Purification
Cupertino High School
Team Leader: Daniel Stavis
Students: Shivam Singhal, Brian Zhong, Varun Agarwal
This second-annual collaborative competition is a signature program presented by Applied Materials in partnership with CSTL that challenges students to design innovative clean tech solutions to make the world a better place. The competition is held in three global centers of innovation: California's San Francisco Bay Area, Singapore, and Xi'an, China. This year's theme was "Clean Water for All," and the Bay Area program involved 31 students from seven high schools, designing solutions to improve access to clean water and contribute to a sustainable future.
The 10 Bay Area finalist teams competed for more than $10,000 in cash prizes sponsored by Applied Materials, with projects ranging from self-sustaining green houses and water filtration systems to thermoelectric water condensation and reverse osmosis applications. Winners were announced at Applied Materials' headquarters in Santa Clara on Saturday, April 27, after student teams presented their designs to a blue-ribbon panel of judges from both industry and academia.
"Congratulations to the winners and finalists for your hard work and innovation," said Om Nalamasu, Corporate Technology Officer, Applied Materials. "We were amazed by the level of student interest and excitement to develop creative solutions for some of the world's most challenging issues. This competition reflects both their enthusiasm and Applied's commitment to inspiring the next-generation of innovators and scaling clean tech innovations that improve the way we live."
"The choice of 'Clean Water for All' as this year's challenge was extremely exciting," said Dr. Ray Ann Havasy, Director, The Center for Science Teaching and Learning. "Changing the world usually starts with a single idea. While much of the world takes clean water for granted, for nearly one billion people on the planet this basic human necessity is a rare commodity."
The competition is designed to encourage students between 13 and 18 years old to solve a critical global challenge through inquiry-based learning while utilizing clean technology. In addition to developing the future workforce and instilling the importance and impact of science and technological innovation on our world, the program engages Applied Materials employees who serve as mentors to the students and oversee their design projects.
The competition is just one way Applied Materials works to increase student access to science education opportunities to help them prepare for success in school and life. For more on Applied Materials' role as a global corporate citizen, visit http://www.appliedmaterials.com/about/cr.
For more information about the Clean Tech Competition, visit http://www.cleantechcompetition.org
About Applied Materials
Applied Materials, Inc. is the global leader in providing innovative equipment, services and software to enable the manufacture of advanced semiconductor, flat panel display and solar photovoltaic products. Our technologies help make innovations like smartphones, flat screen TVs and solar panels more affordable and accessible to consumers and businesses around the world. Learn more at http://www.appliedmaterials.com
About The Center for Science Teaching and Learning (CSTL)
The Center for Science Teaching and Learning (CSTL) is a not-for-profit organization with a mission of encouraging science learning and literacy. CSTL develops programs for people of all ages and utilizes inquiry-based learning as its foundation for program development. This year marks the first in which CSTL is serving as the administrators of the Clean Tech Competition (http://www.cleantechcompetition.org)