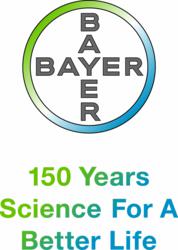 "Because school salad bar use is associated with greater fruit and vegetable consumption, we hope to make a positive impact on students' eating preferences and educate them on the many benefits of eating fresh produce."
Reasearch Triangle Park, NC (PRWEB) January 30, 2013
Bayer CropScience today announced it is teaming up with the United Fresh Produce Association Foundation to support Let's Move Salad Bars to SchoolsTM, a public health initiative developed to increase children's fruit and vegetable consumption by providing salad bars to schools across the United States. This initiative is supported by evidence that children will choose fresh and healthy foods if they are available.
Bayer CropScience plans to donate 10 salad bars this year to select elementary and secondary schools in Florida, California and areas in the Pacific Northwest to help create a positive and healthy lunch experience for students. Bayer hopes to foster relationships between local growers and the participating schools to help educate kids about where their food comes from.
Bayer CropScience also will donate an 11th salad bar to another U.S. school by involving the social community through a social media campaign called Give A Salad Bar, which kicks off today and runs through March 1. When students, parents and friends tweet and retweet the hashtag #GiveASaladBar, or pin to GiveASaladBar on Pinterest, Bayer CropScience will donate $5 toward the additional salad bar. Visit the Bayer CropScience blog at connect.bayercropscience.us to learn how to get started.
"We are proud to support the Let's Move Salad Bars to Schools initiative and its efforts to increase fruit and vegetable consumption in the school food environment," said Rob Schrick, Strategic Business Management Lead – Horticulture, Bayer CropScience. "Because school salad bar use is associated with greater fruit and vegetable consumption, we hope to make a positive impact on students' eating preferences and educate them on the many benefits of eating fresh produce."
The need is great. In 2008, more than one-third of children and adolescents in the U.S. were overweight or obese. More than 15 percent of U.S. children currently are classified as obese, increasing their risk of long-term health problems.
With more than 32 million American children participating in the National School Lunch Program, providing salad bars to schools can expose kids to a variety of fruits and vegetables and help teach a large number of children about healthy eating. Let's Move Salad Bars to Schools, which is funded entirely by private donations, can also help school districts meet new federal guidelines requiring them to serve more daily helpings of fruits and vegetables.
"It is gratifying to work with companies, such as Bayer CropScience, that recognize the importance of teaching children about healthy eating," said Tom Stenzel, President and CEO of the United Fresh Produce Association. "These salad bars will enable students to select from a wide variety of fruit and vegetable options each day, providing a personal experience about choices that can shape behavior far beyond the school lunch line, and provide a platform for a lifetime of healthy snack and meal choices."
Bayer's commitment to sustainability begins at home, where it works to develop its people and enrich the communities in which it operates. That commitment extends around the world through efforts which help farmers address their greatest challenges in an environmentally responsible manner. Bayer CropScience believes that greater food security creates healthier people and communities. For additional information and background on Bayer CropScience and its other programs, please visit bayercropscience.us/our-commitment/bayer-initiatives.
Bayer CropScience Twitter Page:
http://twitter.com/bayer4cropsus
Bayer CropScience Blog:
http://connect.bayercropscience.us/
About Let's Move Salad Bars to Schools
Let's Move Salad Bars to Schools is a public health initiative to raise awareness that salad bars are an effective strategy for increasing children's fruit and vegetable consumption at school. Founding partners are the United Fresh Produce Association Foundation, National Fruit & Vegetable Alliance, Food Family Farming Foundation and Whole Foods Market.
About Bayer CropScience
Bayer is a global enterprise with core competencies in the fields of health care, agriculture and high-tech materials. Bayer CropScience, the subgroup of Bayer AG responsible for the agricultural business, has annual sales of EUR 7.255 billion (2011) and is one of the world's leading innovative crop science companies in the areas of seeds, crop protection and non-agricultural pest control. The company offers an outstanding range of products including high value seeds, innovative crop protection solutions based on chemical and biological modes of action as well as an extensive service backup for modern, sustainable agriculture. In the area of non-agricultural applications, Bayer CropScience has a broad portfolio of products and services to control pests from home and garden to forestry applications. The company has a global workforce of 21,000 and is represented in more than 120 countries. This and further news is available at: http://www.press.bayercropscience.com.
###
Contact:
Bayer CropScience Media Hotline, 1-877-879-6162, or
Becca Hogan
External Communications
Bayer CropScience
Tel: (919) 549-2998
Email: becca.hogan(at)bayer(dot)com
Laura Staton
Charleston|Orwig
Tel: (262) 442-2151
Email: lstaton(at)charlestonorwig(dot)com
USA-BCS-2013-0019
Find more information at http://www.bayercropscience.us.
Forward-Looking Statements
This release may contain forward-looking statements based on current assumptions and forecasts made by Bayer Group or subgroup management. Various known and unknown risks, uncertainties and other factors could lead to material differences between the actual future results, financial situation, development or performance of the company and the estimates given here. These factors include those discussed in Bayer's public reports, which are available on the Bayer website at http://www.bayer.com. The company assumes no liability whatsoever to update these forward-looking statements or to conform them to future events or developments.
©2013 Bayer CropScience LP, 2 T.W. Alexander Drive, Research Triangle Park, NC 27709. Always read and follow label instructions. Bayer® and the Bayer Cross® are trademarks of Bayer. Let's Move Salad Bars to Schools ™ is a trademark of the United Fresh Produce Association Foundation. For additional product information call toll-free
1-866-99-BAYER (1-866-992-2937) or visit our website at BayerCropScience.us.