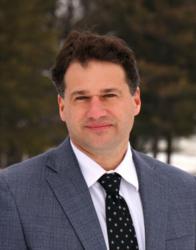 Having met the Green Solutions Team through my role at the CDGA, I jumped at the chance to be a part of this well-respected group of fellow turf scientists, and to work with the Bayer solutions that have always been top performers.
Research Triangle Park, NC (PRWEB) January 30, 2013
Environmental Science, a division of Bayer CropScience LP, today announced Derek Settle, Ph.D., as the newest addition to its growing team of technical service specialists for the turf and ornamentals (T&O) market—known as the Green Solutions Team. Bayer's Green Solutions Team provides customers the scientific expertise to address their unique business goals and challenges and also helps support the industry as a whole with scientific thought leadership, education and training.
Settle, currently director of turfgrass programs at the Chicago District Golf Association (CDGA), will join Bayer on February 1. He will focus primarily on providing scientific expertise to customers in the southeastern and southwestern U.S., and helping transition new products from development to market. In his role as director of turfgrass programs for the CDGA, Settle successfully promoted turf science as a member benefit to the superintendents of public and private golf courses throughout the Midwest by offering complementary turf diagnostics, research, and communications support.
"Building on our mission of Science for a Better Life, we strive to provide best-in-class solutions that address the unique challenges and needs of our customers and industry partners across each region of the U.S.," said Jose Milan, head of Bayer's turf and ornamentals business. "With the addition of Derek Settle to our Green Solutions Team, our customers can leverage the shared knowledge and plant health expertise of four of the nation's leading T&O industry experts—which we consider a key differentiator in this industry."
Founded in 2009, Bayer's Green Solutions Team provides scientific support and technical product training to help regional sales teams, distributors and end-user customers optimize Bayer's professional T&O products and ensure they are used most effectively. The team's customer-centric approach goes beyond a product focus, offering solutions for holistic turf care that take into consideration all aspects of turf management. The Green Solutions specialists also support internal and external technical presentations, develop educational articles and resources, coordinate product demonstration tests, and maintain relationships with university constituents that test and recommend Bayer products.
"Bayer's commitment to provide top notch solutions goes beyond the development of innovative products," said Laurence Mudge, manager of the Bayer Green Solutions Team. "We are equally committed to hiring the best people, which is why we are thrilled to welcome Derek to our team. Derek is truly a 'turf guy'—who brings with him a valuable balance of scientific research and technical expertise as well as a strong background in extension work—having more than six years of experience helping turfgrass professionals prevent and diagnose many of the same challenges our customers face."
Settle is no stranger to Bayer, having spent seven growing seasons testing and evaluating Bayer fungicides in his work at the CDGA. With a primary focus on turfgrass diseases that thrive in the Midwest, Derek's research in this role focused largely on assessing the performance of solutions such as Bayer's portfolio of StressGard™ FT fungicides.
"Having met the Green Solutions Team through my role at the CDGA, I jumped at the chance to be a part of this exciting and well-respected group of fellow turf scientists, and to work with the Bayer solutions that have always been top performers in our studies," said Settle. "In my new role, I look forward to utilizing the expertise I've acquired through my post-graduate and professional research for the benefit of superintendents across the country."
Settle has a doctorate in Plant Pathology from Kansas State University (2004). His post-doctoral research in Plant Pathology with Dr. Lee Burpee and Dr. Paul Raymer at The University of Georgia-Griffin (2005) helped support a USGA-funded study and focused on assessing the susceptibility of seashore paspalum to Sclerotinia homoeocarpa. He holds a Master of Science in Horticulture (2000), as well as a Bachelor of Science in Horticulture with a focus on Landscape Design (1997) from Kansas State University.
For more information on Bayer solutions for green industry professionals, visit http://www.BackedByBayer.com.
Bayer, the Bayer Cross, and StressGard are registered trademarks of BAYER.
Bayer CropScience is committed to bringing new technology and solutions for agriculture and non-agricultural uses. For questions concerning the availability and use of products, contact a local Bayer CropScience representative, or visit Bayer CropScience online at http://www.bayercropscience.us.
###
About Bayer CropScience
Bayer is a global enterprise with core competencies in the fields of health care, agriculture and high-tech materials. Bayer CropScience, the subgroup of Bayer AG responsible for the agricultural business, has annual sales of EUR 7.255 billion (2011) and is one of the world's leading innovative crop science companies in the areas of seeds, crop protection and non-agricultural pest control. The company offers an outstanding range of products including high value seeds, innovative crop protection solutions based on chemical and biological modes of action as well as an extensive service backup for modern, sustainable agriculture. In the area of non-agricultural applications, Bayer CropScience has a broad portfolio of products and services to control pests from home and garden to forestry applications. The company has a global workforce of 21,000 and is represented in more than 120 countries. This and further news is available at: http://www.press.bayercropscience.com.
Contact:
Bayer CropScience Media Hotline, 1-877-879-6162, or
Jenny Miltner
Global Prairie
Tel: (216) 203-7202
Email: jennifer(dot)miltner(at)global-prairie(dot)com
Becca Hogan
Manger of External Communications
Bayer CropScience LP
Tel: (919) 549-2998
Email: becca(dot)hogan(at)bayer(dot)com
USA-BCS-2013-0022
Find more information at http://www.bayercropscience.us.
Forward-Looking Statements
This release may contain forward-looking statements based on current assumptions and forecasts made by Bayer Group or subgroup management. Various known and unknown risks, uncertainties and other factors could lead to material differences between the actual future results, financial situation, development or performance of the company and the estimates given here. These factors include those discussed in Bayer's public reports which are available on the Bayer website at http://www.bayer.com. The company assumes no liability whatsoever to update these forward-looking statements or to conform them to future events or developments.