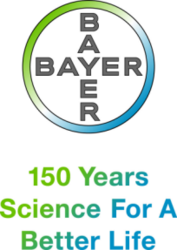 Langdon, ND (PRWEB) January 31, 2013
Women in agriculture play a critical role as advocates of agriculture, in addition to management and on-farm duties. Women in the Northern Plains can learn how to become better "agvocates" from Sarah Bedgar Wilson, a fifth-generation farmer on a mission to provide positive information about agriculture and empowering attendees to pass it on.
BayerCrop Science and InVigor® canola will host a Ladies Breakfast at Canola Day in Langdon, N.D., featuring Wilson as the guest speaker.
In addition, to Wilson's passionate talk about farming and farm life, attendees of the Ladies Breakfast will learn about InVigor's More for Everyone program. The More for Everyone program gives canola farmers the opportunity to nominate a non-profit organization in their community for a monetary award. Attendees will hear about past program winners and learn how the funding works from a local Bayer representative.
Here are the details of the Canola Day Breakfast:
Date: Wednesday, February 6, 2013
Location: NDSU Research Center, Langdon, N.D.
One mile east of Langdon, N.D. on U.S. Highway 5
Schedule:
7:30 a.m. – 8:15 a.m. Breakfast
8:15 a.m. Welcome and Introductions
8:20 a.m.-8:30 a.m. The More for Everyone program: Get More. Give More. – Kyle Rollness, Bayer CropScience
8:30 a.m.- 9 a.m. "Farmer on a Mission" – Sarah Bedgar Wilson
To learn more about InVigor Canola visit: http://www.moreforeveryone.com/
Bayer CropScience is a company committed to bringing new technology to the forefront of crop production. For questions concerning the availability and use of products, growers should visit their retailers, contact a local Bayer CropScience representative, or visit Bayer CropScience online at http://www.bayercropscience.us.
About Bayer CropScience
Bayer is a global enterprise with core competencies in the fields of health care, nutrition and high-tech materials. Bayer CropScience, a subgroup of Bayer AG with annual sales of EUR 7.255 billion (2011), is one of the world's leading innovative crop science companies in the areas of crop protection, non-agricultural pest control, seeds and traits. The company offers an outstanding range of products and extensive service backup for modern, sustainable agriculture and for non-agricultural applications. Bayer CropScience has a global workforce of 21,000 and is represented in more than 120 countries. This and further news is available at: http://www.press.bayercropscience.com.
Contact:
Bayer CropScience Media Hotline, 1-877-879-6162, or
Beth Roden
Director of Communications
Bayer CropScience
Tel: (919) 549-2030
Email: beth(dot)roden(at)bayer(dot)com
Tyler Kelley
Public Relations
AdFarm
Tel: (816) 479-5219
Email: tyler(dot)kelley(at)adfarmonline(dot)com
Find more information at http://www.bayercropscience.us.
Forward-Looking Statements
This release may contain forward-looking statements based on current assumptions and forecasts made by Bayer Group or subgroup management. Various known and unknown risks, uncertainties and other factors could lead to material differences between the actual future results, financial situation, development or performance of the company and the estimates given here. These factors include those discussed in Bayer's public reports, which are available on the Bayer website at http://www.bayer.com. The company assumes no liability whatsoever to update these forward-looking statements or to conform them to future events or developments.