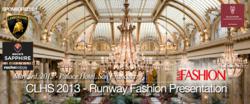 Bring San Francisco Fashion to the World and a World of Fashion to San Francisco
San Francisco, CA (PRWEB) March 27, 2013
BAYFashion Media - San Francisco's largest fashion network and the publisher of BAYFashion Magazine announced that they are going to present a runway fashion show dubbed CLHS 2013 (Coolest Looks & Hottest Styles) at the luxurious Palace Hotel in downtown San Francisco. The fashion show will be held on the 3rd of May 2013 under the majestic dome of the Garden Court at the Palace Hotel and present the latest 2013 Fall/Winter Looks and some 2014 Spring/Summer Looks from 10 designers showing off a total of 100 looks on the runway.
Event and Pre-Party Sponsored by Lamborghini
The event will start with a pre-show 'Invite Only' VIP Party sponsored by Lamborghini. This pre-party will also unveil the latest Lamborghini Model arriving at British Motor Cars Lamborghini Dealership. VIP's will include over 50 Lamborghini owners, political and social dignitaries from San Francisco and some of the elite Silicon Valley entrepreneurs and venture capitalists. Champagne and hors d'oeuvres will be served to the eminent guests and they will be able to mingle with some of the designers who would be presenting at the event.
Amazing Runway - Never before seen in San Francisco
It will feature a 120 ft Square Runway which will span 2 ballrooms of the Palace. The first part of the Runway will be 60 ft raised runway going down the length of the Garden Court. At the end of this runway, the models go down a ramp to another 60 ft floor runway which takes them to the 'Grand Ballroom' and back into the Garden Court. VIP's and ticketed guests will be seated in over 500 seats with clear view of the fashion being presented for the evening.
The 'Full of Fashion' after-party
The fashion for the night is not over yet. One of the largest American fashion brands will be presenting their latest collection in a 'Box Show' format at this post runway event.
This is the fashion party you cannot miss. Over a 100 models will join over 500 guests and after-party only ticket holders for a party that will take over the Grand Ballroom and Garden Court at the Palace. This massive space will also have booths from some of the designers for design consultations and placing orders for your favorite couture outfits from the show.
CLHS 2103 is a BAYFashion Media Event
CLHS 2013 will take place on the 3rd of May 2013
More Information and continuous updates at http://www.bayfashionmag.com/clhs2013
Press Contact:
Kelly Jackson
kelly(at)bayfashionmag(dot)com
Designers Contact:
Ylevol Tam Nguyen or Shankha Goswami
ylevol(at)bayfashionmag(dot)com
or shankha(at)bayfashionmag(dot)com
415.349.0672
For Sponsoring and Partnering Opportunities:
Chris Rojas
rojas(at)bayfashionmag(dot)com
or sales(at)bayfashionmag(dot)com
415.283.500
About BAYFashion Media:
BAYFashion Media is San Francisco's premier pure fashion publication and online portal. Its a Silicon Valley start-up formed by technology gurus and fashionistas and commands over 50,000 readers per issue of the magazine. They are the predominant force for fashion in the social sphere of the San Francisco Bay Area with #1 Ranking in Google for 'San Francisco Fashion' , 'San Francisco Fashion Magazine', and #6 in the World as 'Fashion Magazine' and other fashion related search terms. We have over 40,000 Facebook fans and we have over 2000 people talking about the magazine socially on an average. Our Facebook reach is over 75,000 per week and website registers over 1 million hits per month. The main demographic is the 24-48 year old female from San Francisco Bay, LA, San Diego, NYC , Paris & Istanbul. We get all our traffic from these places and in that order.
Their motto is 'Bring San Francisco Fashion to the World and a World of Fashion to San Francisco' and they work with partners like Ferrari, Lamborghini, Morgan Hotels, Anheuser Busch, Starwood Hotels, Luxury Collection and international fashion brands like Jean Paul Gaultier, Givenchy, Guerlain, Zuhair Murad, Julien Furne and many others. The aim of the magazine is to put San Francisco back on the international fashion map as a prominent source of fashion inspiration and commercial fashion business.