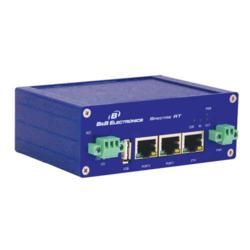 Ottawa, IL (PRWEB) March 26, 2013
B&B Electronics Manufacturing Co., Inc., a leading developer of rugged wireless and wired M2M connectivity solutions for harsh environments, today announced its SPECTRE RT 300 series industrial wired Ethernet routers, which are designed to securely connect Ethernet and serial equipment in tough environments where office/home-grade routers can't handle the job. Much like the Linksys router in homes, the rugged SPECTRE RT router can connect a private network to a public one, allowing devices to communicate across the Internet. But unlike such routers, the compact 1.7 x 3.1 x 4.5 inch SPECTRE RT was designed for harsh environments, such as cramped cabinet spaces and the outdoors, and features a wide (-40 to 75°C) operating temperature, a compact DIN-rail mount, a rugged metal case, the ability to use 10 to 30VDC power input, and I/O that can be used to monitor door closures or set alarms.
With Ethernet, USB, I/O and auxiliary ports, the router can handle multiple data communications protocols and fits into virtually any network topology. Applications include energy monitoring, point-of-sale transactions, parking lot security, access control, and digital signage. The router also complies with NEMA TS1 & TS2 environmental requirements for traffic control equipment.
The SPECTRE RT incorporates four main security features that protect networked devices from hackers' attacks on valuable data:

Basic NAT (network address translation), the most common function for a router, allows public IP addresses to connect to private IP addresses.
More advanced features include:

VPN (virtual private network) tunneling provides a secure and encrypted data path between two devices.
A built-in Firewall feature isolates or secures a segment of the network by limiting who can access it by filtering on IP addresses, port numbers and protocols.
Secure Protocols such as HTTPS and SSH encrypt and secure the data passing through the router as well as configuration and setup data.
The ERT310 model supports Ethernet ($499 MSRP) and the ERT312 supports both Ethernet and serial (RS-232) connectivity ($549 MSRP). Both carry a 5-year warranty, and are available from B&B Electronics and all its North American distribution partners: http://www.bb-elec.com/How-to-Buy/Find-a-Distributor.aspx.
Product details: http://www.bb-elec.com/Products/Ethernet-Infrastructure/Ethernet-Routers/SPECTRE-RT-Industrial-Router.aspx