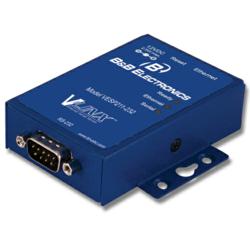 Ottawa, IL (PRWEB) March 27, 2013
B&B Electronics Manufacturing Co., Inc., a leading developer of rugged wireless and wired M2M connectivity solutions for harsh environments, today expanded its family of Ethernet serial servers with the Vlinx™ VESP211 series of small form factor serial servers. VESP211 Serial Servers connect RS-232, RS-422 or RS-485 serial devices to Ethernet networks, allowing the serial devices to become nodes on the network. With a footprint of only 5.1 x 7.6 x 2.5 cm, these compact servers make it easy to network-enable any serial device, even in tight installation spaces.
Vlinx VESP211 series servers are designed, tested and proven rugged enough for heavy industrial, 61000-6-2, EMC Level 3 harsh environments. They feature a wide (-40 to 80 °C) operating temperature, a barrel connector, the ability to use 10 to 30 VDC voltage input, and an IP30-rated metal enclosure that is panel (standard) or DIN-rail mountable (with optional adapter). The servers are shipped with a 12 VDC power supply.
Three designs are available. Model VESP211 supports RS-232/422/485 (MEI) with a DB9M serial port and RJ45 Ethernet port. Model VESP211-232 supports RS-232 with a DB9M serial port and RJ45 Ethernet port. Model VESP211-485 supports RS-422/485 with a removable terminal block and RJ45 Ethernet port.
Installation, configuration, and monitoring are easy with Vlinx Manager software. The software allows a PC to remotely manage and troubleshoot a serial server over a LAN/ WAN via the built-in web server and an ordinary desktop web browser. Users can access the serial port using virtual COM, direct IP mode, or paired mode connections. VESP211 series servers support 10BaseT or 100BaseTX. Software is compatible with Windows XP, Server2003, Vista, Server2008 and Win 7. It is also compatible with B&B Electronics' VESR400 and VESR900 series Ethernet serial server products.
The VESP211 series serial servers are priced for entry-level applications including retail, point-of-sale, security, laboratory and hospitality. The VESP211-232 and VESP211-485 are priced at $129, and the VESP211 is priced at $149. All models carry a five-year warranty.
About B&B Electronics:
Founded in 1981, B&B Electronics Manufacturing Co., Inc. provides M2M connectivity solutions for wireless and wired networks based on serial, Ethernet, wireless and USB communication technologies. Specializing in connectivity out at the "edge" of networks in remote, harsh and uncontrolled environments, the company is known globally for its easy to use, rugged and reliable device networking products, as well as for its knowledgeable technical support and responsive customer service. B&B Electronics is located at 707 Dayton Road, P.O. Box 1040, Ottawa, IL 61350, 800-346-3119 and at http://www.bb-elec.com on the Internet.