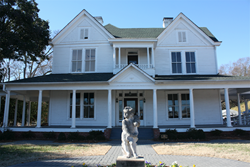 Belmont, NC (PRWEB) January 23, 2017
Belmont Capital Advisors (BCA) has moved its corporate office to 123 N. Main Street in Belmont, NC, approximately two blocks from their flagship location.
Belmont Capital Advisors has seen clients at its former location at 217 Glenway Street in Belmont, NC since it's opening in 2009. The purchase of the commercial office space at 123 N. Main Street in Belmont, NC will offer enhanced client experiences and is a welcoming place for clients to consult with fiduciary advisors. The new amenities were necessary to support the firm's growth.
"We are exceedingly grateful to our clients in Belmont, NC, and those throughout the greater Charlotte regions who we've had the pleasure of working with over the years. Our new office space is intended to accommodate them – to provide ample meeting space, to offer easy access, privacy, and plenty of room for ongoing education and training with speakers and experts," said JoePat Roop, President and Founder of Belmont Capital Group.
The office at 123 N. Main Street in a historic home zoned for commercial business. The home was built in 1898 by a local merchant, George M. Gullick, and is a stunning old country charm residence. The two-story frame house predates the textile era in Belmont, NC and its architecture, both exterior and interior, represents a conservative interpretation of popular picturesque styles. "We want to host our clients in the heart of Belmont, NC, in a home office that has cultural significance to our community here in the Belmont Historic District," added Roop.
The team at Belmont Capital Advisors says it is important to limit the impact of their move on existing clients. All phone numbers, fax numbers, and email addresses will remain the same. Belmont Capital Advisors has satellite offices in SouthPark and Kings Mountain, NC. Those offices will not be impacted by the move of the Belmont, NC. office.
About Belmont Capital Advisors
Founded in 2009, Belmont Capital Advisors has grown as an independent firm with solutions ranging from wealth management to retirement planning. The advisors at Belmont Capital Advisors have a reputation for safeguarding, enhancing, and passing on a legacy of financial security built over a lifetime of hard work.
Belmont Capital Advisors seeks to offer sound advice and added peace of mind to its clients. As an independent company, it offers solutions to help clients through retirement. Rather than approaching the future with a one-size-fits-all approach, Belmont Capital Advisors works one-on-one with clients to assess their unique financial situation and provide the right tools to achieve the retirement its clients deserve. As a financial advisor with a legal fiduciary responsibility, BCA will always put its clients' best interest first.
For more information, visit http://www.belmont-capital.com/
Securities offered through Kalos Capital, Inc. and Investment Advisory Services offered through Kalos Management, Inc. both located at 11525 Park Woods Circle, Alpharetta, GA, 30005 (678)-356-1100. Belmont Capital Advisors, Inc. is not an affiliate or subsidiary of Kalos Capital, Inc. or Kalos Management, Inc. 
# # #