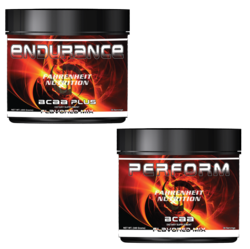 Our chemists have literally 'lapped' the competition by adding the novel combination of beta alanine and creatinol-o-phosphate, combined to dramatically speed and target absorption directly into muscle tissue
Hutto, TX (PRWEB) October 11, 2011
Fahrenheit Nutrition is quickly making a name for not only beating the competition to market with the latest in nutritional supplement technology, but actually beating them in concept, where all of the greatest ideas are born.
Fahrenheit was among the very first to translate clinical evidence on the effectiveness of BCAA supplementation to the world of sports nutrition, with its potent supplement, PERFORM.
A potent delivery of essential BCAAs, PERFORM has given thousands of athletes the critical building blocks to turn intense training into powerful, lean muscle. Now, Fahrenheit's product designers are creating true buzz in the industry with the release of ENDURANCE, a next generation nutraceutical that adds to the BCAA punch an unparalleled absorption rate, delivering essential amino acids directly to the muscle faster than ever before.
Fahrenheit CEO, William Mellors maintains his praise for the PERFORM formula, noting, "PERFORM continues to set the bar in this industry, remaining the true standard in BCAA supplementation. However, for the top-tiered athlete, we believe ENDURANCE takes it to the next level - for those needing faster, near immediate results."
PERFORM, which delivers clinically significant levels of crucial branched-chain amino acids, is field tested to* :

Reduce Muscle breakdown during training and recovery
Delay Muscle fatigue
Reduce delayed-onset Muscle soreness
Promote Muscle growth
Promote faster tissue repair
Support optimum growth hormone levels
Provide energy boosts during intense training sessions
With the ENDURANCE formula, Mellors explains, "Our chemists have literally 'lapped' the competition by adding the novel combination of beta alanine and creatinol-o-phosphate, combined to dramatically speed and target absorption directly into muscle tissue*."
Mellors concludes, "This is not the first time, nor will it be the last that we've beaten the competition to the table. We are extremely proud of our aggressiveness in product development and are incredibly excited about the future at Fahrenheit Nutrition."
To learn more about Fahrenheit Nutrition and its line of cutting-edge supplements, visit http://www.fnutrition.com. Consumers are also encouraged to follow Fahrenheit Nutrition on their growing Facebook site @ facebook.com/fnutrition.

These statements have not been evaluated by the Food and Drug Administration. These products are not intended to diagnose, treat, cure or prevent any disease.
About Fahrenheit Nutrition
Fahrenheit Nutrition is an industry leading supplier of high-end nutritional supplements. All products in the Fahrenheit line are manufactured using current Good Manufacturing Practices (cGNP) as defined by the FDA. Fahrenheit Nutrition products are available at retail outlets throughout the United States.
Media Contact:
Bruce Davis
(512) 846-2649
mediarelations(at)fnutrition(dot)com
###