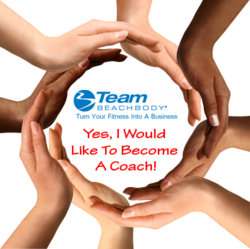 Team Unity's step-by-step training system and personal support makes it possible for anyone who joins our team, to build a large and lucrative Beachbody MLM...Team Unity is dedicated to helping every new Beachbody Coach on our team succeed.
Denver, CO (PRWEB) February 28, 2013
Team Unity's new training system allows people (who become a Beachbody Coach on their team) the ability to quickly learn the techniques that top earners are now using to grow their Beachbody business. Immediately upon joining the Beachbody MLM business, each new Team Unity member is given access to three steps which plug them in to every aspect of their training platform, as well as, to a team leader for personal help at anytime.
In step one, new Beachbody Coaches add themselves to Team Unity's Email Newsletter. This newsletter is used to inform all team members about exciting updates, promotions, and live training calls and webinars throughout the year. However, over the course of their first two weeks as a Coach, they are sent several auto-responder emails to ensure they are following each step in the process to building a thriving Beachbody business.
Step two invites new Team Unity Beachbody Coaches to join their private social media group, where all members meet online to share ideas, ask questions, and to discuss marketing strategies. At almost any given day or time, Team Unity Leaders, such as Holly Blochowitz, are online and available to assist new members as needed. As Holly explained, "After being a Top Beachbody Coach for almost five years, I have answered almost every question there is about the Beachbody MLM. Therefore, I have a very vast FAQ library. Whenever a Coach on our team asks a question, I simply post the answer, and the discussion begins. If I don't have an answer, my team leaders and I work together to develop the best answer possible, and then post it in our group for everyone to learn from." Holly went on to explain that team members also help each other answer the questions they receive from customers who want to buy Shakeology, or prospects who want to become a Beachbody Coach; and they even share marketing materials and emails.
Step three though, is the key to why Team Unity Beachbody Coaches make money. It is a step-by-step compilation of the best trainings and tools, straight from: Team Beachbody, Top Beachbody Coaches, and many of the highest earning Beachbody Coaches in the company. When a new Team Unity Beachbody Coach starts on page one of this training blog, they are walked through everything they need to know and do. Included on the training blog are instructions for everything from hosting a Beachbody Challenge Group, to supporting customers, to learning every type of offline and online marketing.
Team Unity Founders understand, that many people who consider joining the Beachbody MLM, wonder if they should become a Beachbody Coach if they do not have any prior experience in multi-level marketing or direct sales. Holly Blochowitz answered this question by saying, "Absolutely. Team Unity's step-by-step training system and personal support makes it possible for anyone who joins our team, to build a large and lucrative Beachbody MLM business from the ground up. Team Unity is dedicated to helping every new Beachbody Coach on their team succeed.
About the Team Beachbody Business Opportunity and Team Unity
Team Beachbody is the multi-level marketing division of Beachbody, a top rated home-based health and fitness company responsible for fitness programs such as P90X, Insanity, TurboFire, Les Mills Pump, etc... The Team Beachbody MLM is unique, in the fact that they spend millions of dollars on television infomercials and online marketing to bring in new members, customers, and MLM representatives, and then assign them to their dedicated distributors (referred to as Emerald Beachbody Coaches) to earn from.
Team Unity is a group of Independent Top, Diamond, and Star Diamond Beachbody Coaches who go above and beyond to help their team members build a strong and thriving Beachbody Business.
Holly Blochowitz, Team Unity Team Leader & Co-Founder
Independent Top & Star Diamond Team Beachbody Coach
http://www.MakeMoneyLiveLife.com
Beachbody does not guarantee any level of success or income from the Team Beachbody Coach Opportunity. Each Coach's income depends on his or her own efforts, diligence, and skill. See our Statement of Independent Coach Earnings for the most recent information on our Coaches' actual incomes.