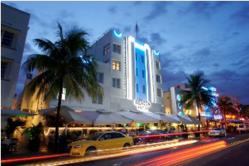 "We strive to offer our customers a warm and memorable experience and this accolade is evidence that our hard work is translating into positive traveler reviews on TripAdvisor, says Chris Regalado, Revenue Manager at the Beacon South Beach Hotel
Miami Beach, FL (PRWEB) June 06, 2012
This year, The Beacon South Beach Hotel, Miami has received a 2012 TripAdvisor® Certificate of Excellence award. Approximately 10 percent of accommodations listed on TripAdvisor.com receive this prestigious award and the Beacon South Beach Hotel is one of them.
Trip Advisor's Prestigious Certificate of Excellence Award
TripAdvisor.com is the world's largest travel site. Every year, the site awards highly rated accommodations, restaurants and attractions with Certificates of Excellence. The accolade is meant to honor hospitality excellence and is awarded to only those establishments that have consistently achieved outstanding traveler reviews on TripAdvisor.com. To qualify for the Certificate of Excellence, businesses must maintain an overall rating of four or higher, out of a possible five, as reviewed by travelers on TripAdvisor.com. Additional criteria include the volume of reviews received within the last 12 months.
"TripAdvisor is pleased to honor exceptional businesses for consistent excellence, as reviewed by travelers on the site," said Christine Petersen, President of TripAdvisor for Business. "The Certificate of Excellence award gives highly rated establishments around the world the recognition they deserve. From exceptional accommodations in Beijing to remarkable restaurants in Boston, we want to applaud these businesses for offering TripAdvisor travelers a great customer experience."
Beacon South Beach Hotel – Dedicated To Quality Service and 100% Customer Satisfaction
Ranking #24 of 203 hotels in Miami Beach on TripAdvisor.com, the Beacon South Beach Hotel continues to surprise all guests with its astounding customer service, excellent décor and delectable gourmet dining. Committed to leading the hospitality industry with quality customer service, this hotel offers its guest more than just a hotel stay – it's an experience!
"The Beacon South Beach Hotel is delighted to receive a TripAdvisor Certificate of Excellence," said Chris Regalado, Revenue Manager of the Beacon Hotel. "We strive to offer our customers a warm and memorable experience, and this accolade is evidence that our hard work is translating into positive traveler reviews on TripAdvisor.com. We are preparing for a very busy summer and look forward to welcoming many guests old and new over the coming months".
The Beacon Hotel current special offers include "STAY LONGER, SAVE MORE" at the popular beach side hotel in Miami. Guests can save between 10% - 25% off their stay in May - November, 2012. This Ocean Drive Hotel is offering an exclusive Discount package which brings affordable prices at one of the world's best travel destinations, South Beach Miami.
Guests can enjoy infinite views of the Atlantic on one side and historical sherbet-colored Art Deco architecture on the other. Nightfall lures club-goers by the beats of celebrity DJs. The Beacon South Beach Hotel offers complimentary full breakfast to get all the guests started on a new day of dazzling South Beach Miami.
About The Beacon South Beach Hotel – Where Quality Experience Matters More!
The Beacon South Beach Hotel is the luxury art deco hotel at the shores of Miami's sexiest beach, South Beach. Seven miles of sand and surf, unrivaled nightlife, premier shopping and exquisite cuisine makes the Beacon Hotel is a premier vacation destination in South Florida. The hotel provides a host of amenities including luxury accommodations, gourmet dining, deluxe in-room spa amenities and personalized concierge services to each of its guests.
For more information, visit: http://www.beaconsouthbeach.com
###