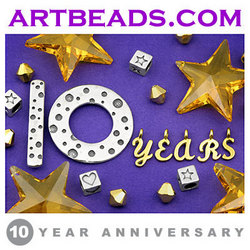 The lessons we learned by bootstrapping in the early days have continued to serve us well especially now in this latest economic downturn.
Gig Harbor, WA (PRWEB) March 11, 2010
Artbeads.com, a Gig Harbor, Wash., online retailer of beads and jewelry supplies, is proud to celebrate its tenth anniversary and tenth consecutive year of record sales.  Like many small businesses, Artbeads.com began as a part-time venture operating out of the garage. Two years off the ground, Devin and Cynthia Kimura found themselves struggling to balance one full-time job to pay the bills and a quickly growing web business, while raising two young children ages two and four.
"Cynthia, like most moms, was burning the candle at both ends, making sure that orders were filled and in the mail while at the same time taking care of family," says Artbeads.com CEO & Strategist, Devin Kimura. "But we liked beads. I worked with glass, Cynthia began to develop an interest in making jewelry, and there was space in our garage for something new." Launching a new online retail business in December of 1999 at the peak of the dot-com boom gave the Kimuras motivation to chase their dream of building a world-class bead and jewelry supply company.
As their business started, however, the Kimuras would soon find themselves in the midst of the dot-com crash and a major economic downturn, much like the situation many small businesses are facing today. Aware of the risks associated with debt-leveraging a business, Devin and Cynthia "bootstrapped" growth, reinvesting every penny of profit back into the company and tightly managing expenses. "The lessons we learned by bootstrapping in the early days have continued to serve us well especially now in this latest economic downturn," says Devin. Artbeads.com came up with creative ways to reduce costs without layoffs and focused on launching low-cost marketing programs to grow free organic search engine traffic and generate word-of-mouth advertising through social media. They also became more aggressive with their pricing and promotional strategy, using email marketing as the primary channel to reach value-seeking customers. Devin credits these and many other efforts along with the entrepreneurial spirit of the Artbeads' employees for leading Artbeads.com to their tenth straight year of record sales and solid growth in profits.
"2009 was a fantastic year for us," says Artbeads.com President and Chief Creativity Officer, Cynthia Kimura. "We've been able to expand our efforts to educate and inspire jewelry makers and crafters with our Learning Center, which has grown to include over 600 inspirational jewelry and craft ideas along with numerous how-to-make-jewelry videos that are all freely available to the public. We've also made great strides to support the beading community while encouraging others to share ideas and discuss projects and events." In 2009, Artbeads.com sponsored numerous beading events; supported jewelry-making instructors, bead societies and bloggers; launched a forum on their "Blog for Beaders"; and drove significant growth in its social-media sites such as Facebook, which now supports over 20,000 fans.
As Artbeads.com enters their tenth year, the Kimuras are proud to have built one of the largest online bead and jewelry supply companies in the United States that has served hundreds of thousands of customers from all corners of the world. Their dream that began in a garage now operates out of a 24,000 square-foot warehouse and provides jobs for over 140 employees in the Pacific Northwest while supporting countless artisans and craftsmen from around the globe who contribute to the more than 25,000 products carried on the Artbeads.com website, ranging from beads, findings, and tools to unique hand-painted pendants.
 
About Artbeads.com
Artbeads.com is a leading provider of beads and jewelry supplies for jewelry designers and the beading community. Artbeads.com caters to the quality-conscious designer with products like Swarovski crystal beads and the finest sterling silver beads, but also works vigorously to provide an exceptional customer experience while maintaining competitive prices. Thanks to Artbeads' buying power, those looking for wholesale beads are attracted by wholesale pricing discounts, no minimum order requirements and fast, free shipping anywhere in the United States. With a vast Learning Center, Artbeads.com is also a popular destination for beginners looking for jewelry designs and tips on how to make jewelry.
###