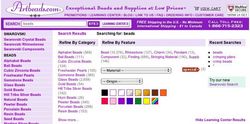 Gig Harbor, WA (PRWEB) October 16, 2008
Artbeads.com has teamed up with search-engine technology and web analytics giant Omniture to bring jewelry designers a new tool that greatly simplifies the task of finding beads and jewelry supplies among their inventory of over 19,000 products. This new website search interface is not only very powerful and intuitive, but is also engaging and fun. With the previous search technology, a customer search for silver beads would return over 2,500 items, and that's where it would end. Now, with just a couple of clicks, that search can be easily refined by Category, Type, Material, Size, Origin and Color, giving jewelry designers a precise list to shop from. All of these options are presented in a clever, user-friendly interface which makes looking for beads and jewelry supplies a joy.
As customers are presented with their search results, a panel on the right side of the page gives them a peek at relevant information on jewelry design and jewelry making found in the site's "Learning Center.'' In addition, by clicking the Learning Center Results header, they will find a crafter's nirvana: thumbnail views of all of the relevant ideas and a host of search-refinement tools to help those learning to make jewelry. Other goodies can also be found here such as relevant handy tips, fashion trends and other crafting resources which are presented in panel on the right.
"Jewelry designers who are big fans of Swarovski crystal beads will love the steps that Artbeads.com has taken to cater the search experience to these products," said Devin Kimura, Artbeads.com CEO. At any time in the course of searching the products on the site, customers can click a link to the new "Swarovski Search" and be presented with search refinement tools specific to Swarovski products, including dropdown menus of Swarovski shapes, colors, and styles.
What else? Lots! The new site search employs a "Did You Mean?" feature, suggesting logical alternatives to mistyped search entries. Beaders, you are now free from having to know how to spell "Swarovski''! Typing in "Swravoski'' will yield the prompt, ''Did you mean 'Swarovski'''? Many synonyms are accounted for as well - "letter bead" = "alphabet bead", "gemstone" = "stone'' and, yes, it appears they have accommodated ''Swaro'' as an accepted synonym for ''Swarovski'' !
The new Artbeads.com search also employs a "Direct Hits" feature which customers will appreciate. Entering in certain text criteria will automatically direct the user to their desired page, bypassing having to visit a search results page. Examples: "fax number'' takes you to their ''Customer Service'' page, ''5301'' takes you to their ''Swarovski 5301 Faceted Bicone'' page, and entering in any product's code takes you to that product's detail page (eg., ''HTS280'' takes you to the ''Hill Tribe Silver Large Brushed Round Bead - HTS280'' product page.)
Flexibility is offered in the display of search results. If users want to see more products on a page of search results, they can take advantage of these three options: 1) Toggle between ''View By List'' and ''View By Grid''; 2) Increase the number of items displayed per page in the "Show:" drop down menu; and 3) Hide the Learning Center Results pane. Users can also sort the results by a number of criteria, eg., Type, Color, Size and Material (in the Learning Center, one can sort by Theme, Cost and Difficulty Level).
Other helpful features that one has come to expect from such full-featured search solutions are employed as well: quotations (to force the searching of intact phrases, eg. ''silver rounds''), negatives (minus sign to exclude terms, eg., ''pendants -wood'', breadcrumbs (to backtrack within your search refinement session), recent searches (to quickly go back to a previous search within the same or previous session.)
Is this too much for the user? Actually... no! Users can always bypass doing any refinements or adjusting any of the view options and directly browse through the search results. (Though they'll be hard-pressed to avoid experimenting with these fun refinement tools, the nifty color palette tool serving as eye candy in itself). The new search interface isn't just pretty, it is fast, clearly driven by a powerful engine. It is clear that Artbeads.com has invested a lot of time into planning out this great new tool, and it should prove to deliver a rewarding experience for jewelry designers.
Artbeads.com is a leading provider of beads and jewelry supplies for jewelry designers and the beading community. Artbeads.com caters to the quality conscious designer with products like Swarovski crystal beads and the finest sterling silver beads, but also works vigorously to keep prices low. Thanks to Artbeads buying power those looking for wholesale beads are attracted by wholesale pricing discounts, no minimum order requirements and fast, free shipping anywhere in the US. With a vast learning center, Artbeads.com is also a popular destination for beginners looking for jewelry designs and tips on how to make jewelry.
# # #