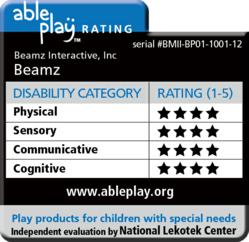 What is unique about Beamz is, while it's developmentally beneficial for our kids with special needs, it's also fun for the whole family!
Scottsdale, Arizona (PRWEB) October 16, 2012
Beamz Interactive, Inc. (OTCQB: BZIC), an interactive music product and technology company, today announced their achievement of being awarded a uniform 4-Star Rating across four separate categories by The National Lekotek Center and AblePlay for their newest product offering, Beamz Classroom. Lekotek is a non-profit organization that uses independent evaluators to rigorously score products on their effective use with individuals who have sensory, physical, communicative and cognitive disabilities. The comprehensive review is available online at http://www.ableplay.org/products/beamz-interactive-inc/beamz.
"This award is a big deal for us," said Al Ingallinera, Jr., Vice President of Product Management for Beamz Interactive. "We've known for some time now about the successes that have been occurring in classrooms, children's hospitals, rehabilitation and therapeutic settings, but to be validated by and receive such high marks from an independent party, particularly an organization as well-respected as Lekotek, is quite an honor."
The Beamz Classroom product combines the Beamz interactive music system with specialized content and activities that instantly make hundreds of different instruments, music clips and sound effects accessible – guitar, piano, drums, saxophone, bells, animals, crickets…and many more. The product is universally designed so it is accessible to children of all learning and physical abilities. Beamz' versatility in its application context is unmatched—you can work on cognition, processing, sequencing, cause and effect, motor skills, memory, literacy, math concepts, collaboration, music therapy, music education and so much more. Or, you can simply leverage its "cool factor" to engage kids and reward productivity; touching laser beams and playing the light to which end makes music and sounds is so captivating that kids don't feel like their actually skill-building.
Ahren A. Hoffman, Manager of Industry Relations & Partnerships from the National Lekotek Center conveyed, "Our evaluators and families reported that it was a pleasure working with Beamz." She further commented saying, "What is unique about Beamz is, while it's developmentally beneficial for our kids with special needs, it's also fun for the whole family! Our evaluators reported over and over that parents and siblings got involved—that it felt like a way everyone could connect at the same level doing the same thing."
The Beamz Classroom product is offered at a $249.95 MSRP and is available immediately online at http://www.thebeamz.com/classroom.
About Beamz
Based in Scottsdale, AZ, Beamz Interactive, Inc. (http://www.thebeamz.com) has created a new interactive laser controller technology that can be used to develop new market opportunities in a wide variety of music, game, therapy and consumer applications. In its first application, the Company developed an innovative new music technology and product offering that brings music to everyone in a manner that has previously not been possible. Beamz allows people that have no musical background or training to play and enjoy music within minutes, yet it has the depth to enable accomplished DJs, artists and musicians to perform, compose and create very sophisticated interactive music. Beamz Interactive's technology portfolio includes multiple patents, patents pending and trade secrets covering interactive music, software, laser-based controllers, gaming applications and related designs and devices.
About Lekotek
AblePlay is an online resource at http://www.ableplay.org provided by the National Lekotek Center, a not-for-profit organization dedicated to providing children who have disabilities access to the benefits of play experiences. Lekotek believes that toys and play can help children with special needs learn, develop and thrive in a world that presents them with many unique and complex challenges.
###
Cautionary Note Regarding Forward-Looking Statements
This press release contains, and our officers and representatives may from time to time make, "forward-looking statements" within the meaning of the safe harbor provisions of the U.S. Private Securities Litigation Reform Act of 1995. Forward-looking statements can be identified by words such as: " anticipate," "intend," "plan," "goal," "seek," "believe," "project," "estimate," "expect," "strategy," "future," "likely," "may," "should," "will," and similar references to future periods. Examples of forward-looking statements include, among others, statements we make regarding: expected operating results, such as revenue growth and earnings; anticipated levels of capital expenditures; strategy for customer retention, growth, product development, market position, financial results and reserves; and strategy for risk management.
Forward-looking statements are based only on our current beliefs, expectations and assumptions regarding the future of our business, future plans and strategies, projections, anticipated events and trends, the economy and other future conditions. Because forward-looking statements relate to the future, they are subject to inherent uncertainties, risks and changes in circumstances that are difficult to predict and many of which are outside of our control. Our actual results and financial condition may differ materially from those indicated in the forward-looking statements. Therefore, you should not rely on any of these forward-looking statements. Important factors that could cause our actual results and financial condition to differ materially from those indicated in the forward-looking statements include, among others: Economic and financial conditions, including volatility in interest and exchange rates, commodity and equity prices and the value of financial assets; volatility in the capital or credit markets; technological developments or other changes that affect customer demand.
Any forward-looking statement made by us in this press release is based only on information currently available to us and speaks only as of the date on which it is made. We undertake no obligation to publicly update any forward-looking statement, whether written or oral, that may be made from time to time, whether as a result of new information, future developments or otherwise.