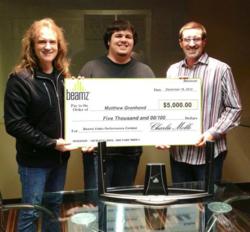 The diversity and creativity of the videos submitted to the contest was great
Scottsdale, Arizona (PRWEB) December 20, 2012
Beamz Interactive, Inc. (OTCQB: BZIC), an interactive music product and technology company, today announced the winners for its Beamz Player Video Performance Contest. Beamz artist judges David Ellefson, Euge Groove, Craig Chaquico and Jerry Riopelle reviewed the video performance entries and selected the top 10 finalists. Thereafter the finalist videos were published to the Beamz web site for online voting to determine the winners.
The grand prize winner, Matthew Gronhovd from Phoenix, Arizona used the Limited Edition David Ellefson Beamz Player performing the Beamz original song Classique. David Ellefson presented the $5,000 cash prize to the grand prize winner this week at the Beamz office in Scottsdale, Arizona. The video performance of the second place winner Matthew Ballard featured the interactive version of the Euge Groove chart-topping song Chillaxin combined with playing a guitar with the Beamz Player, showcasing how traditional instruments may be used with Beamz to create unique performances. The third place winner, DJ Johnny Blue featured a performance setup with three Beamz Player laser controllers connected to a tablet computer interacting with the Beamz original song Club Techno.
"The diversity and creativity of the videos submitted to the contest was great," said Al Ingallinera, Jr., Vice President of Product Management for Beamz Interactive. "We extend our congratulations to the winners and gratitude to all the participants that showcased in their videos how great music may be played by anyone by touching laser beams and playing light."
The winning videos from the contest may be viewed on the Beamz web site at http://www.thebeamz.com/contest-winners.
About Beamz
Based in Scottsdale, AZ, Beamz Interactive, Inc. (http://www.thebeamz.com) has created a new interactive laser controller technology that can be used to develop new market opportunities in a wide variety of music, game, therapy and consumer applications. In its first application, the Company developed an innovative new music technology and product offering that brings music to literally everyone in a manner that has previously not been possible. Beamz allows people that have no musical background or training to play and enjoy music within minutes, yet it has the depth to enable accomplished DJs, artists and musicians to perform, compose and create very sophisticated interactive music. Beamz Interactive's technology portfolio includes multiple patents, patents pending and trade secrets covering interactive music, software, laser-based controllers, gaming applications and related designs and devices.
###
Cautionary Note Regarding Forward-Looking Statements
This press release contains, and our officers and representatives may from time to time make, "forward-looking statements" within the meaning of the safe harbor provisions of the U.S. Private Securities Litigation Reform Act of 1995. Forward-looking statements can be identified by words such as: " anticipate," "intend," "plan," "goal," "seek," "believe," "project," "estimate," "expect," "strategy," "future," "likely," "may," "should," "will," and similar references to future periods. Examples of forward-looking statements include, among others, statements we make regarding: expected operating results, such as revenue growth and earnings; anticipated levels of capital expenditures; strategy for customer retention, growth, product development, market position, financial results and reserves; and strategy for risk management.
Forward-looking statements are based only on our current beliefs, expectations and assumptions regarding the future of our business, future plans and strategies, projections, anticipated events and trends, the economy and other future conditions. Because forward-looking statements relate to the future, they are subject to inherent uncertainties, risks and changes in circumstances that are difficult to predict and many of which are outside of our control. Our actual results and financial condition may differ materially from those indicated in the forward-looking statements. Therefore, you should not rely on any of these forward-looking statements. Important factors that could cause our actual results and financial condition to differ materially from those indicated in the forward-looking statements include, among others: Economic and financial conditions, including volatility in interest and exchange rates, commodity and equity prices and the value of financial assets; volatility in the capital or credit markets; technological developments or other changes that affect customer demand.
Any forward-looking statement made by us in this press release is based only on information currently available to us and speaks only as of the date on which it is made. We undertake no obligation to publicly update any forward-looking statement, whether written or oral, that may be made from time to time, whether as a result of new information, future developments or otherwise.