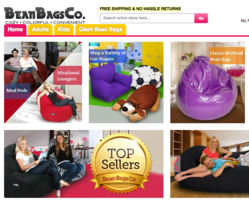 Grand Opening Sale
Save Up To $80!
Orange County, CA (PRWEB) April 23, 2013
BeanBagsCo.com, a leading provider of adult bean bag chairs, kids' bean bag chairs, and giant bean bag chairs, has announced they are slashing prices in a Grand Opening Sale! These prices are the lowest possible and won't last long! Consumers are encouraged to visit the website today to take advantage of deep discounts and obtain the best in premium bean bags in fun colors and various sizes!
Always priced competitively, Bean Bags Co. has slashed their prices further to offer consumers an opportunity to buy early. A trusted retailer, Bean Bags Co. offers a wide assortment of bean bag chairs for adults, bean bag chairs for kids, and giant bean bag chairs. Choosy consumers have a wide variety of colors and sizes from which to choose, including popular brands such as Mod Pods, Sitsational Loungers, and Big Maxx Chairs. From wet look bean bags to footstools and soft microsuede bean bags, these are the perfect furniture replacement or fun addition to your college dorm room, apartment, man cave, or family game room! Priced at up to $80 off, these bean bags won't break consumers' banks to obtain.
Bean bags like these are in high demand. Adult bean bags aren't just the retro styles you see in the movies. Today's bean bags for adults come in a variety of designs, fabrics, and colors, making these stylish furniture replacements that work well in any home! Brands such as Sitsational Loungers offer a versatile way for families to decorate with comfortable and stylish seating options. These soft furniture replacements are like laying on a cloud.
Kids' bean bags are similarly comfortable and soft. Children of all ages and sizes will enjoy lounging on a fun colored bean bag to do their homework, enjoy arts and crafts, or to take a nap. Bean Bags Co.'s Fun Factory offers animal shapes, sports themes, and fun prints and colors that are sure to delight children and capture their imagination!
Consumers are encouraged to take advantage of these deep discounts and visit the website today. This Grand Opening Sale won't last long but their consistently low prices and large selection will. Consumers are invited to find out how Bean Bags Co. can make their home cozy and fun!
About Bean Bags Co.
BeanBagsCo.com is a trusted provider of adult, kids, and giant bean bags. Featuring everyday low prices, huge selections, and quality furniture, Bean Bags Co. is the ideal resource from which to purchase bean bags for every occasion and need. Consumers are encouraged to visit http://www.beanbagsco.com for more information.
Bean Bags Company
Suite 218, 16400 Pacific Coast Hwy.
Huntington Beach, Ca. 92649
(949) 494-0007