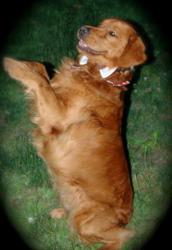 The costs of the upkeep of the rescued NC20 Golden Retrievers is mounting. Bean as spokes dog is helping DVGRR spread the word.
Reading, PA (PRWEB) June 05, 2012
Bean, whose American Kennel Club registered name is Neversink's Never Bean Better, is wooing to help support the rescued Golden Retrievers, known as the NC 20 dogs remaining at Delaware Valley Golden Retriever Rescue (DVGRR) in Reinholds, Pa. This is the moving story of DVGRR's emergency middle of the night rescue of 20 hopeless Goldens and Golden mixes from a horrific situation in North Carolina.
"It would be ideal if they were all adopted before the Gala on June 10, 2012, however, the cost of their upkeep is mounting for DVGRR. Bean is helping DVGRR spread the word," said Maurice Furlong, co-chair of the Golden Gala.
Visit http://dvgrr.org/events/golden-gala-2012 and page to the bottom to find Bean's story. Bean can also be friended on his Facebook page at http://www.facebook.com/beandrager (must subscribe to FaceBook to view link) to follow his tails. For more information on Delaware Valley Golden Retriever Rescue and the NC20 go to http://www.dvgrr.org. Help Bean spread the word by posting his message on Facebook and Twitter, in blogs and share this story with your friends.
For guests attending the gala, be seen with Bean at a photo opportunity on June 10 at the DVGRR 11th Annual Golden Gala at Aronomink Golf Club in Newtown Square, Pa, starting at 3 p.m.
Bean resides in Berks County with his human parents Michelle and Jim Drager and his real canine mama, Ruby (AKC registered name Pine Run's Neversink Gem). He is a therapy dog with the Berks County Therapy Dog Group as well as a volunteer at St. Joseph's Medical Center in Reading, Pa. He appeared on Animal Planet's television show The Haunted in the episode called "Something in the Attic," which was filmed in Berks County. He is known for his wooing and singing, and of course his funny canine antics.
Note: Bean is available for interview woos and photo opportunities. Please call Michelle Drager at 484-269-2900 or email mdrager(at)thedragergroup(dot)com to make arrangements.
Contact: Michelle Drager
484-269-2900
mdrager(at)thedragergroup(dot)com