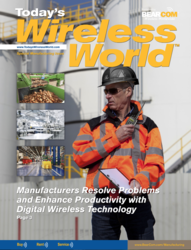 Today's Wireless World provides a wealth of information on the ongoing improvements in wireless technology.
Dallas, TX (PRWEB) May 09, 2013
BearCom, a nationwide provider of wireless communications equipment and solutions, today announced the release of a special issue of Today's Wireless World, its award-winning magazine that focuses on the latest innovations in wireless technology.
The Special Manufacturing Issue of Today's Wireless World, available in digital and print formats, focuses on how manufacturers are using wireless technology to solve problems and increase productivity. It discusses how, with two-way radios, analog technology has given way to advanced digital systems, like the MOTOTRBO line from industry leader Motorola Solutions.
The magazine's lead article quotes Hugh Johnston, Product & Purchasing Manager at BearCom, as saying, "Motorola's MOTOTRBO digital platform from BearCom offers the best of both worlds for the manufacturer, given that it is compatible with current analog technology and also has the capability to transition to a digital system as the needs of the manufacturer dictate."
The article explores how MOTOTRBO digital two-way radios, which include the Motorola XPR6550 and Motorola XPR7550, can be deployed in any manufacturing setting to produce significant productivity gains. The magazine also includes a product guide, a success story, and an illustration depicting various applications of wireless technology throughout a manufacturing environment.
"Today's Wireless World provides a wealth of information on the ongoing improvements in wireless technology," said BearCom's President & CEO, Jerry Denham. "BearCom is especially pleased to publish this issue focusing on the manufacturing industry."
In a letter included in the magazine, Denham wrote that the MOTOTRBO system is so adaptable that it can be deployed in nearly any manufacturing environment. Denham said that adaptability comes from Motorola Solutions' responsiveness to customer feedback, its industry-leading application development program, and its efforts in coordination with its strategic partners like BearCom. "We at BearCom have worked closely with Motorola to deliver the kind of devices and solutions that can make a real difference in a manufacturer's bottom line, as well as the safety of its employees," wrote Denham, who noted that BearCom is Motorola Solutions' largest reseller and integrator worldwide.
Today's Wireless World is available through BearCom's online library, which includes an archive of previous issues of the magazine, along with white papers, success stories, brochures, and videos. Today's Wireless World has previously focused on wireless technology users working in the events, federal government, education, healthcare, public safety, and construction industries.
About BearCom
BearCom provides a broad line of high-performance wireless communications products, services, and complete mobility solutions. Founded in 1981, BearCom is America's only nationwide dealer and integrator of wireless communications equipment, serves customers from 26 branch offices located throughout the U.S., has several affiliated offices around the world, and employs approximately 400 people. BearCom is headquartered in the Dallas, Texas area. For more information, visit http://www.BearCom.com.