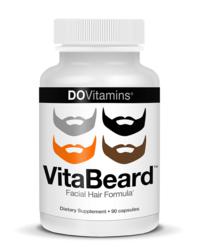 VitaBeard is formulated specifically for men, and is the only vitamin of its kind.
Las Vegas, NV (PRWEB) October 25, 2011
Do Vitamins is proud to announce the world's first facial hair vitamin: VitaBeard. Now shipping, VitaBeard is a dietary supplement formulated for facial hair growth and to stop itchy beard when growing facial hair.
VitaBeard combines hair support staples such as B-Vitamins, Biotin, and Vitamin E with more complex vitamins and minerals targeted at men and beards. Previously, the only options for facial hair supplements have been prenatal vitamins and hair, skin, and nail vitamins, both typically formulated for women. VitaBeard is formulated specifically for men, and is the only vitamin of its kind.
VitaBeard has attracted some famous faces, as well. Jack Passion, two-time world beard champion and star of IFC's Whisker Wars marks the product's first celebrity endorsement. Passion explains: "VitaBeard changes everything when it comes to growing a beard. One VitaBeard pill contains what I previously had to take six different vitamins for! I'm now taking VitaBeard every day, and I will be updating my book to reflect this breakthrough."
VitaBeard's introduction coincides with beard season. Men everywhere are growing winter beards, and November will mark the return of the mustache-growing charity drive Movember. Over the last eight years, Movember has raised over $174 million to support the Prostate Cancer Foundation and LIVESTRONG. VitaBeard hopes to play a major role by helping men participating in the movement grow facial hair faster.
Made in the United States and GMP certified, VitaBeard is available now from http://beardvitamin.com.
###