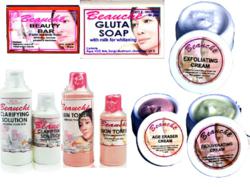 (PRWEB) March 14, 2013
Beauche International, a Philippine-based beauty products manufacturer, is taking the beauty world by storm. This company has launched a wide variety of items that are suitable for all skin types. Details of Beauche products can be found at beaucheonlinestore.com.
The company came into existence when a Filipina mother joined hands with a pharmacist and a dermatologist to develop beauty products that work. Their items can help in treating pimples, warts, oily skin, pigmentation, open pores, acne, blackheads and whiteheads. Filipinos living outside their home country face lots of difficulties in finding products that suit their skin. Skin problems can be eliminated with beauche.
The items are economically priced, especially when compared with competitors in international market. A US dollar is around 40 Philippine pesos, and lots of Filipino overseas workers can find these items cheaper than other brands. It is also easy to purchase these items. Interested people can visit the beaucheonlinestore.com and place their orders there. Shipping is free of charge for beauche sets within the Philippine, but people living in other countries have to pay the shipping charge.
Another way to know more about Beauche is to visit the facebook page found at BeaucheOnlineStore.com. The facebook page, managed by Girlee, already has more than 2000 fans and hundreds of people talking about the product. Beauty enthusiasts should also visit the site to read reviews, learn about user experiences, and get more information.
Products that are currently being offered by Beauche include rejuvenating cream, gluta soap, age eraser cream, beauty bar, clarifying lotion, skin toner, exfoliating cream, kojic balls, and gluta balls. Ordering the set is a good way to get most of the products at a reasonable price.
Benefits, FAQs, and other important details can be found at http://www.beaucheonlinestore.com.