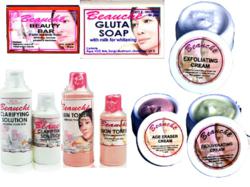 (PRWEB) March 05, 2013
There are many Filipinos based in the USA that have heard about one of the top skin care products that hit the headlines recently. Beauche is a new range of beauty products made in Philippines, being specially designed to treat any skin irregularity, such as pimples, acne, black and white heads, pigmentation and oily face. More details about Beauche can be found at beaucheonlinestore.com.
One of the most important advantages of these beauty products is that they contain safe ingredients that produce visible results after only 7 days. Even if the initial reactions during the first days of applications might include redness of face, tightening of skin, appearance of new pimples and a soft stinging sensation, users don't have to worry because these side effects are just normal.
Beauche was born when a chemist from Philippines discovered a ground-breaking formula that would help women look young, beautiful, and blooming. The chemist, with a dermatologist and a pharmacist, invented the Beauche beauty set which includes: beauty bar soap, skin toner, exfoliating cream, clarifying lotion, age eraser cream and rejuvenating cream.
While the beauty bar soap eliminates pimples and cleanse the surface skin with ease, the clarifying lotion restores the overall firmness and texture of the deep skin. The skin toner is another extremely important piece in the puzzle. It cleanse the skin from dirt and protects it from bacteria and other dangerous germs. The age eraser cream is specially designed to make women look younger, fresher and more beautiful. Lastly, the rejuvenating cream eliminates excess pigment, while preventing melanin to be formed on the skin.
Beauche is popular among Filipinas, and people from the USA can purchase the products online. Beauche beauty products can be ordered from Girlee at BeaucheOnlineStore.com.