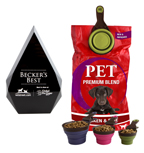 50% of America's pets are overweight or obese. Feeding the proper portion sizes, as specified by a vet, can lead to a healthier body weight.
Coppell, TX (PRWEB) March 15, 2013
Dr. Marty Becker has spent his life working toward better health for pets while becoming "America's Veterinarian." For 16 years, he has been the veterinary contributor on ABC's Good Morning America. He's reached millions of viewers, readers, pet professionals and students with his New York Times best sellers, online posts and veterinary college affiliations.
At the recent Global Pet Expo 2013, the largest pet industry trade show in the country, he also selected his 10 favorite products and awarded them with his "Becker's Best" award during a special ceremony. The new KlipScoop™ from Dexas' Popware for Pets line was recognized for its multiple uses and the role it can play in portion control for pets.
According to Dr. Becker and a related post on VetStreet.com, up to 50% of America's pets are either overweight or obese. Similar to humans, dogs with weight problems can be predisposed to joint problems, diabetes, respiratory issues and even heart disease. Pet parents are strongly encouraged to ask their vet how much food they should provide daily.
Dexas Popware™ for Pets believes the KlipScoop™ will become an important tool to help solve the growing trend of pet obesity. Since KlipScoop is both a collapsible measuring cup and a dry food bag clip, its unique visibility on top of the bag makes it an ideal solution that reinforces the feeding of proper portion sizes to every size of pet.
When collapsed, the KlipScoop clamps to the top of a food bag and lies flat against the side of the bag. With the bag tightly closed, the food stays fresh and the tempting smells stay inside the bag. When popped open at feeding time, the KlipScoop becomes a precise measuring cup for scooping the correct portion size of dry food every time.
Here are the specifics of the new KlipScoop from Dexas Popware for Pets:

Materials: BPA-free poly handle and collapsible cup with non-slip clip pads, stainless steel spring
Size: ½ cup, 1-cup and 2-cups
Colors: green, purple and pink cups, handle and clip are brown
Dishwasher safe
Safe for all pet food contact
Dexas' Popware for Pets is a line of innovative, collapsible pet bowls and accessories that can be used at home and on the go. Based on popular, expandable kitchen tools designed and manufactured by Dexas, Popware for Pets products are the unique solution to pet feeding and watering needs, while being easily collapsible, washable and portable. The Dexas Popware for Pets line is available in stores and online at Petco, PetSmart, Bed Bath & Beyond, The Container Store, Cabela's and many other pet boutiques and specialty retailers.
About Dr. Becker:
Dr. Marty Becker, "America's Veterinarian," has been the popular veterinary contributor on ABC's Good Morning America for 16 years. He is a founding member of The Dr. Oz Show's Core Team Oz and a member of the Dr. Oz Medical Advisory Panel. In April 2012, the World Small Animal Veterinary Association named him the recipient of their annual WSAVA Hill's Excellence in Veterinary Healthcare Award. He is also Chief Veterinary Correspondent for the American Humane Association.
Dr. Becker has written 22 books that have sold more than 7 million copies, including three New York Times best sellers. He is an adjunct professor at his alma mater, the Washington Medicine at both Colorado State University and the University of Missouri. He is a board member of his local pet rescue group, Second Chance Animal Adoption of Bonners Ferry, ID.
For more information, visit http://www.dexas.com or http://www.popwareforpets.com for innovative products for the kitchen, office and pets. Follow Popware for Pets on Facebook.
Reference: VetStreet.com, Popware for Pets.com, Dexas.com