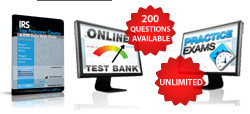 Whether you are prepping for the RTRP exam, wishing to become an enrolled agent or in need of CPE courses, setting yourself up for success in the tax industry is the best 'deal' of all
Orlando, FL (PRWEB) November 22, 2012
Black Friday, the day after American Thanksgiving, has become known for special deals and savings, and Fast Forward Academy is recognizing this day by offering a special deal of its own. For one day only, tax professionals can save 25% off of EA, RTRP and CPA test preparation products, as well as EA and RTRP tax continuing education courses.
Fast Forward Academy offers numerous offerings to assist those working in the tax industry prepare for upcoming exams. Often, these required exams can be challenging; preparation tools offered by Fast Forward Academy can increase the chance of student success.
For enrolled agents looking to pass the EA exam, Fast Forward Academy offers a test preparation package that, to date, has an 80% success rate for students passing all three challenging EA exams on the first attempt. Students can take advantage of a comprehensive study guide, a test bank that includes over 3,000 question and practice exams that mirror the actual EA exam as they prepare for the EA exam.
Anyone looking to become a registered tax preparer can access a Fast Forward Academy package, geared toward their specific area of expertise. 99.2% of students who use this preparation tool will pass the RTRP exam. Similar to the EA package, the RTRP package offers students a comprehensive study guide, access to a content-rich test bank and practice exams that reflect what the actual RTRP exam will be like.
For those tax professionals needing to complete required continuing professional education (CPE), Fast Forward Academy offers a variety of courses, all of which are IRS registered and fit the required categories.
Fast Forward Academy president, Matt McBride, hopes that a Black Friday special will get the attention of more tax professionals who may benefit from its high-quality tax products. "It seems that every retailer in the US is having some kind of Black Friday deal, and while many people may be seeking deals for the upcoming holidays, Fast Forward Academy is looking for people to consider themselves as an investment." He continues, "Whether you are prepping for the RTRP exam, wishing to become an enrolled agent or in need of CPE courses, setting yourself up for success in the tax industry is the best 'deal' of all. By offering our EA, RTRP, CPA, and CE products at 25% off for one-day only, we hope many aspiring and practicing tax professionals will take advantage of it and sign themselves up for quality educational products that have a life-long impact."
Fast Forward Academy offers various packages and bundles designed to meet the needs of professionals at all levels.
Click here to see how Fast Forward Academy can help you succeed in the tax industry.
About Fast Forward Academy
Fast Forward Academy, LLC provides companies and individuals around the world with the tools to help them efficiently manage their professional education needs. The name Fast Forward Academy reflects the scope of our mission—helping students and professionals accomplish more in less time. To realize this goal, we make every effort to provide the most useful and efficient exam prep material in the market place, all designed to help our students Learn Fast and Pass. Our principal focus is to supply rapid training and streamlined continuing education to professionals in the fields of taxation, securities and insurance.