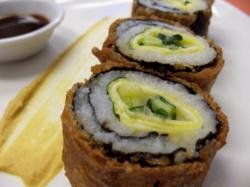 It has taken me four years to create that many recipes for breakfast
Napa, CA (Vocus/PRWEB) July 22, 2011
The Inn on First Napa bed and breakfast, a contemporary inn has created more than 100 tasty recipes for breakfast.
"It has taken me four years to create that many recipes for breakfast," says Jim Gunther, chef and one of the owners of The Inn on First. "Most B&B's only have nine to 12 recipes they cycle through for breakfast. We now have more than 100. Additionally, we are committed to not serving a particular breakfast to our repeat guests. We keep track of what you have enjoyed and when so we don't serve the breakfast for a second time. One couple has already enjoyed 24 different breakfasts in four years."
In addition to the milestone, The Inn on First is also working on a cookbook to include their latest creations for breakfast. The book will feature dishes such as S'mores French Toast, which is made from house-made graham cracker bread griddled in a French toast mixture and topped with roasted marshmallows and served with chocolate maple syrup. The Sushi Omelet will also be featured. This is an omelet with salted zucchini and green onions, wrapped in sushi rice and nori, then deep-fried in tempura batter. The Sushi Omelet is served with wasabi cream, hot mustard, and soy sauce. Another guest favorite that will be included are the Vegetable Samosas served with apricot chutney, almond rice, fried egg, and red lentils. These are a just a small taste of what will be included in the cookbook.
As a graduate of the California Culinary Academy, Chef Jim Gunther offers whimsical breakfast fare with a professional edge. Providing new gastronomic adventures for his guests each day is part of what makes The Inn on First a Napa lodging inn experience so unique. Because of his adoration of fresh ingredients and quality edibles, Chef Jim serves food that is predominately house-made. From that first bite of granola to the last lick of sauce on the plate, guests of The Inn on First will taste the creativity and passion that goes into each meal.
For more information about The Inn on First, please call Jim Gunther at (707) 253-1331 or visit them on the web at http://www.theinnonfirst.com. They are located at 1938 1st Street Napa CA 94559.
About The Inn on First
The Inn on First is great for a romantic getaway, and immerses guests in Napa Valley style with a taste of San Francisco hospitality. Napa's newest inn is casually chic throughout—with inventive, hand-crafted cuisine, excellent service, elegant rooms and amenities, and peaceful gardens.
###