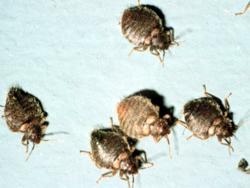 For being both effective and safe, My Cleaning Products asserted Bed Bug Bully makes the best bed bug spray.
New York, NY (PRWEB) March 26, 2013
After making some rounds in schools, it seems that bed bugs are now back to infesting offices. According to a report from cbslocal.com, recently, they barged into one office building in Michigan. And stating that Bed Bug Bully is pesticide-exempt apart from effective, My Cleaning Products asserted that it is the best bed bug spray to use in the said problem.
Based on the report, My Cleaning Products stated that the affected office building was particularly that of the Blue Cross Blue Shield in Southfield. That, it detailed, was confirmed by the company's spokesperson Helen Stojic in a statement, although she said that the pests were only found in the first floor of the building.
But despite the situation, MCP, based on the same report, related that the company's normal operations were still ongoing. Bed bug treatment, it added, was scheduled over the weekend.
Here's a part of the post Bed Bugs Discovered in Michigan Office by My Cleaning Produtcs.
"Bed bugs are hitting schools. There were already several reports about them spotted in campuses across the country. In fact, just last Friday, news had it that they were again sighted in two Live Oak grade schools.
But as you might already know, bed bugs could get everywhere – even in offices. And too bad for Blue Cross Blue Shield, reports said that its office in Southfield, a suburb in Detroit, Michigan, was the latest bed bug target."
According to My Cleaning Products, with the size and quickness of bed bugs, they could infest any place, including offices. This reported discovery of them in Blue Cross Blue Shield is a proof of that, it said.
However, when it comes to bed bug treatment, MCP asserted that nothing beats Bed Bug Bully. With its help, one could save a bed-bug-affected item from being replaced. That could prevent an additional expense, it said. Moreover, it related that the bed bug spray is pesticide-exempt as approved by FIFRA 25(b). Hence, it is safe for health and even the environment, it stated.
For being both effective and safe, My Cleaning Products asserted Bed Bug Bully makes the best bed bug spray. And to prove that true, it encouraged the public to try a sample of it.
As it detailed, Bed Bug Bully Complimentary Sample is available at MyCleaningProducts.com.