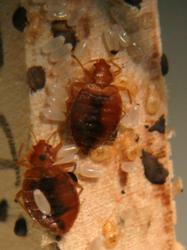 ...apart from effectively and safely eliminating bed bugs, Bed Bug Bully also helps prevent the comeback of the pests by killing even their eggs and larvae.
Meriden, CT (PRWEB) March 28, 2013
According to a report from wtnh.com, bed bugs were a big problem to the residents of one Connecticut government housing complex. To help them effectively fight the said blood-fed insects, My Cleaning Products suggested the use of the pesticide-exempt Bed Bug Bully. It also offered complimentary samples of the said bed bug spray to let the people see for themselves how well the product works.
Based on the report posted on March 26, 2013, it was the Community Towers in Meriden, Connecticut that was infested by the vampire-like pests, stated My Cleaning Products. Bed bug inspection and extermination were already implemented in the complex but residents complained that the critters were still everywhere, it detailed.
One tenant named Judith Rodriguez even had to throw away a number of her furniture because of bed bugs, related MCP as based on the report. However, it added that Harold Ince Jr., Dir. Asset Management and Maintenance, countered that Rodriguez's unit was already fumigated. The problem was that she washed off the chemicals after the exterminators left. On her defense, Rodriguez said she did it because she got an asthma, the company additionally shared.
Despite the argument as to whose fault was the bed bug comeback though, the report mentioned that the housing authority would still search the complex to know how to get rid of the bed bugs again.
Here's an excerpt from the post Bed Bugs Are Back in Meriden Government Housing by My Cleaning Products.
"One thing so aggravating about bed bugs is that they could always come back. You could eliminate them so effectively, but if you don't follow that up, they could sneak in again and cause you more problems. And sadly for one government housing complex in Connecticut, that is exactly what's happening.
Despite the inspection and extermination done to kill bed bugs, residents of Community Towers in Meriden complained that the pests are still everywhere. Having enough of the said blood-suckers, they are trying to get the city's housing board to do something about it."
My Cleaning Products said that no one must let bed bugs repeat its infestation. Physically, financially and even emotionally, it would cause more problems, it said.
So to help the Community Tower residents and any bed bug victim prevent the re-invasion of the said vampire-like insects, the company recommended the use of the pesticide-exempt bed bug spray called Bed Bug Bully. It said that it is effective and safe as proven by pest-control companies, so it's well-worth it.
As MCP explained, apart from effectively and safely eliminating bed bugs, Bed Bug Bully also helps prevent the comeback of the pests by killing even their eggs and nymphs. In addition, it stated that with its help, one could always execute a prompt bed bug treatment. That, in return, could prevent a bed bug outbreak, it said.
To prove that Bed Bug Bully is that big of a help in eliminating bed bugs and even in preventing their comeback, My Cleaning Products encouraged everyone to see it in action. It urged the public to try a Bed Bug Bully Complimentary Sample today available at MyCleaningProducts.com.