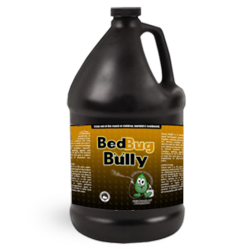 ...the use an organic-based bed bug spray is now the best bed bug treatment technique to implement.
Cincinnati, OH (PRWEB) February 13, 2013
It is evident that bed bugs are now more widespread than ever. According to a recent report from woodtv.com, another library was even closed down in Michigan on Monday because of their presence. And so to help anyone who has to deal with them, My Cleaning Products published a list of very important facts about bed bugs. It also introduced to the public its Bed Bug Bully and even offered a complimentary sample of the solution to show that it is a truly effective help to bed bug extermination.
Based on the report, it was particularly the Kalamazoo Public Library that was affected by bed bugs. A number of its returned books were found infested by the pests. So to prevent the widespread, they were said sealed in plastic bags.
Here as an excerpt from the report:
"Library spokesperson Farrell Howe confirmed to 24 Hour News 8 that a couple of books returned through the Washington Square Branch's drop box were found to contain bed bugs. They were sealed in plastic bags to effect a quarantine and destroyed."
But stating that bed bugs could actually infest any place and could make anyone their next victim, My Cleaning Products stated that everybody should be ready to implement a bed bug treatment. And to make that process effective, it asserted that there are several things about the pests that he or she must be aware with.
In its post published February 11, 2013, the company enumerated those very important things. Particularly, it listed down ten facts one must never forget about bed bugs. It emphasized that each of them is a knowledge that helps make the process of how to get rid of bed bugs truly safe and effective.
Particularly, the list started with the physical attributes of the pests. The company shared pictures of bed bugs with its readers to help them correctly identify the pests. And as it should be, the company ended the list with the bed bug extermination method that offers a safe and effective process.
The safe and effective bed bug treatment method that My Cleaning Products highly advised was the use of a pesticide-exempt bed bug spray called Bed Bug Bully. It said that the vampire-like pests became more resistant to chemicals. Because of that and the health risks that chemicals bring to humans, it asserted that the use an organic-based bed bug spray is now the best bed bug treatment technique to implement.
But among the solutions one could purchase, it only recommended Bed Bug Bully. As it said, it is pesticide-exempt as approved in FIFRA 25(b), hence, it is safe.
And just as bed bug exterminators proved that Bed Bug Bully is truly effective and safe, My Cleaning Products also encouraged the public to do the same. It announced that complimentary sample of Bed Bug Bully is now available so it urged them to test the product themselves.
The company shared that complimentary sample of its Bed Bug Bully is available at MyCleaningProducts.com.