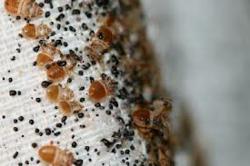 ...given that Bed Bug Bully is pesticide-exempt as determined in FIFRA25(b), it spares everyone from chemical health risks.
New York, NY (PRWEB) February 27, 2013
Bed bugs put one house in Kentucky in a very bad state. As reported by abcenews.go.com, thousands of the said vampire-like insects took over the place and even got its owner hospitalized. And stating that bed bugs could indeed turn a home into their den, My Cleaning Products stated that the public must learn how to clear the pests early on their infestation. Moreover, to make the elimination safe, it said bed bug victims should pick Bed Bug Bully over other bed bug sprays for sale.
According to the news, the reported attack of the thousands of bed bugs particularly happened in Frankfort, Kentucky. It related that the blood-fed pests were basically all over the house it infested. They were seen in furniture, wall, purses, curtains and virtually everywhere.
But apart from just taking over the house, the report related that the said pests also sent the owner of the house to the hospital. Debra Gowens, the owner, was said hospitalized as bed bugs literally ate her flesh.
However, the report also said that bed bugs are preventable. And as it stated, its prevention starts with not purchasing any second-hand items.
My Cleaning Products agreed with the statement. But given that bed bugs are sneaky, it said that despite the preventive steps, anyone could still be infested by the pests. So to protect themselves, it advised the public to also learn how to kill bed bugs early.
The company said that with the early elimination of the blood-sucking pests, the time and money needed to get rid of them is decreased. Not to mention, more bed bug bites are prevented, it stated.
Nonetheless, among the many methods of how to kill bed bugs, My Cleaning Products cited that the use of bed bug spray is the one that really allows an early bed bug treatment. That's because with a bed bug spray ready, one could immediately start the bed bug treatment right after the pests were detected, it explained.
Of the bed bug sprays though, MCP only recommended Bed Bug Bully. As it said, the reason is that the elimination process must also be safe apart from effective. And given that Bed Bug Bully is pesticide-exempt as determined in FIFRA25(b), it spares everyone from chemical health risks. In addition, it requires no evacuation so it also makes the whole process hassle-free.
To prove it themselves that Bed Bug Bully is indeed the best bed bug spray, My Cleaning Products encouraged the public to get a sample of it. Anyone could get a Bed Bug Bully Complimentary Sample at MyCleaningProducts.com, the company detailed.