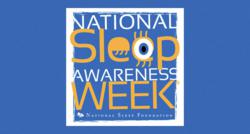 Tempe, AZ (PRWEB) March 08, 2013
In an effort to educate people on ways to improve their rest, the National Sleep Foundation marks March 3-10 as National Sleep Awareness Week in 2013.
Blog BedEd.org celebrates the weeklong focus on improving sleep quality in their latest post, titled "Learn About Sleep Hygiene for National Sleep Awareness Week." In the article, Bed Ed provides insight into the often overlooked health benefits and detriments associated with sleep and insomnia.
Demonstrating that sleep is a big deal, the post cites an article from the Guardian covering sleep research studies from the Surrey Sleep Research Center and the Proceedings of the National Academy of Sciences journal. These studies showed lack of sleep played a role in changing gene activity and increasing risks for heart disease, obesity, and diabetes, in addition to having an impact on people's immune systems and metabolism.
The blog then incorporates the recent Sleep in America® study from the National Sleep Foundation on the relation between exercise and sleep. The survey found a positive correlation between the number of hours people reported exercising at vigorous, moderate and light levels as well as those who reported no activity with their associated levels of insomnia and sleepiness. The article refers to data which also shows a higher rate of sleep apnea in people who did not report exercise. Sitting for long hours was also associated with higher levels of insomnia and sleepiness. An impressive 72% of vigorous exercisers displayed no insomnia-related problems.
Tips for improving sleep hygiene, or habits conducive to quality rest, conclude the article. Following on the heels of the correlation between exercise and sleep, the post includes exercising and incorporating movement as a means of improving rest. Turning down lights, reserving the bed for sleep, and finding ways to relax before going to bed are included in the to-do list.
One often overlooked aspect of receiving a good night's rest involves checking beds and bedding for wear and allergens. Bed Ed mentions both memory foam and natural latex mattresses are hypoallergenic and provide pressure relief and support that can improve sleep compared with old or uncomfortable beds. The blog offers several other articles on mattress education, shopping tips, and on sleep for interested readers.
BedEd.org is a mattress education blog dedicated to providing informational resources to shoppers. The blog features impartial assessments of mattress types, brands, and other sleep related products, developed via first party research, third party reviews, and expert research and opinion. In addition, readers receive useful sleep quality tips and news on the latest mattress developments.